Manufacturers in the pipe industry often need to use the laser process to cooperate with the production line to mark texts and serial numbers on their pipes to identify their products or achieve the purpose of tamper-proof.
Because the molecular structure of plastic materials is relatively complex, it's hard to tell which type of laser could be the best option without testing, therefore, the first step usually needs to do a laser marking test on the plastic pipes.
That's why our customer Cristián sent his pipe samples to us, he needs to find a laser marking machine that can be used to mark their pipes with the production line.
Yes, like most of the other pipe manufacturers, they were using inkjet printers before, which requires consumables such as inks, solvents, and cleaning agents. The use process also requires maintenance, and environmental protection is poor.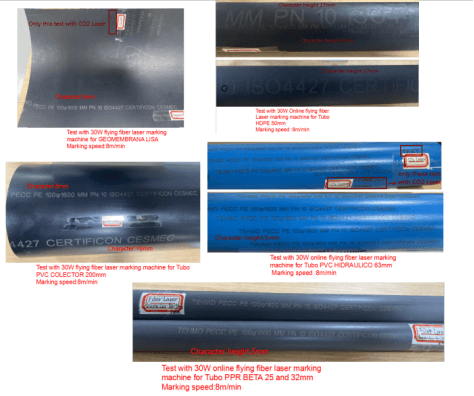 A more advanced printing coding technology is a must, and laser marking, laser coding is the choice.
The working principle of the laser marking machine is to emit from the laser light source. After passing through the glavo scanner system, the product surface will be burnt (physical and chemical reaction) and then leave a mark. It is characterized by green environmental protection, good anti-counterfeiting performance, and cannot be tampered with.
No hazardous chemicals such as ink consumables are involved, a smart choice to switch to laser processing instead of inkjet printing.
Hispeed Laser team firstly tested the materials with different types of laser marking machines, Fiber, CO2, and UV, but found out that the marking effect of the fiber laser marking machine works well on all the sample materials.
As to the power option, considering the laser machine will be 24hours continuously working and 8m/min marking speed is requested,50 watts are recommended so that the machine can be work with long life and no compromising on speed.
2 50 watts fiber laser marking machines are already on way to the customer, with our stable machine performance and reliable customer service, we believe Cristián will be quite happy with Hispeed and we will definitely go for further cooperation.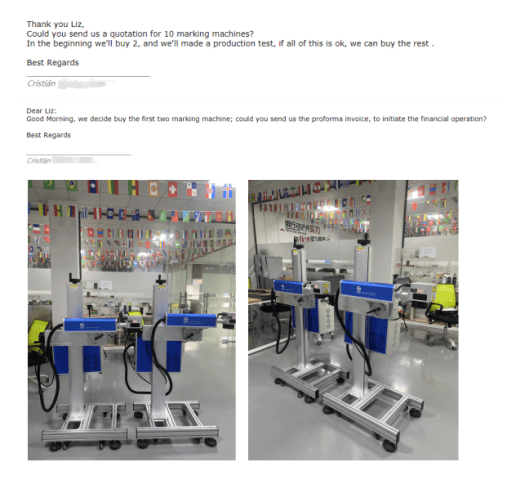 Remark:
The pipe materials have been tested:
HDPE
PVC
PE
Pipe printing contents:
PECC PE 100 Ø1600 MM PN 10 ISO 4427 CERTIFICACIÓN
Content sizes:
5 – 20 mm
Marking speed:
8 m/min