Enclosed Fiber Laser Marking uses a laser to leave an imprint on the material's surface. Enclosed fiber laser marking machines can print a wide range of characters, symbols, patterns, and more. An enclosed fiber laser marking machine is the best choice if you are looking for a more comprehensive marking machine. Fiber laser enclosed marking is used extensively in the metal products sector. Metal products can be processed, including gold, silver, aluminum, stainless steel, and all metals.
Advantages of Enclosed fiber laser marking machine
These five points highlight the benefits of fiber laser marking machines.
Environmental protection.
The enclosed laser marking machine does not generate dust during the working process. It can also protect the staff from the machine. There is a vacuum cleaner inside the machine to clean the waste generated during the active process at any time. If you require a clean working environment for the machine, then a fully enclosed one is a good choice.
Low cost
Due to the non-contact processing, laser marking does not require a fixed workpiece to work. The marking speed takes only a few seconds and can be streamlined throughout production, making it suitable for high-volume production. The operating cost of a fiber laser marking machine is very low. This device does not need any consumables. It only works with. It is wear-free and part-free, thanks to its non-contact processing.
Maintenance-free
The enclosed laser marking machine works in a single marking process, eliminating the need for repeated processing. No maintenance is required during the 100,000-hour working life.
Fine engraving
The enclosed fiber laser marking products have a beautiful appearance and are highly appreciated. At the same time, the markings are durable, attractive, and clear. Laser marking machines are able to produce large quantities of data on small-sized hardware products.
Types of enclosed fiber laser marking machine
The fiber laser marking machine is one the most recent innovations in the manufacturing sector. It provides high-quality and error-free marking on a variety of materials. Enclosed fiber laser markers provide high-definition and long-lasting marking results. Fiber laser marking systems offer higher efficiency compared to other marking methods. Moreover, an enclosed laser marking machine does not require regular maintenance and has a longer working life than normal fiber marking machines.
Fully Enclosed Fiber Laser Marking Machine
This Enclosed Fiber Laser Marking Machine has an advanced fiber laser source and a high-quality gala scanning system. It can provide stable power output and good beam quality. It can realize the needs of mass production as well as continuous industrial work.
Technical specifications
Model
LS-YLP-20L
LS-YLP-30L
LS-YLP-50L
Laser Type
Q-Switch
Laser Power
20W
30W
50W
Wavelength
1064nm
Beam Quality
M2<1.5
Marking Range
50x50mm – 300x300mm(optional)
Max.Line Speed
7000mm/s
Min. Line Width
0.01mm
Min. Character
0.05mm
Repeatability
±0.01mm
Cooling Mode
Air Cooling
Power Requirement
220V±10%/50Hz or 110V±10%/60Hz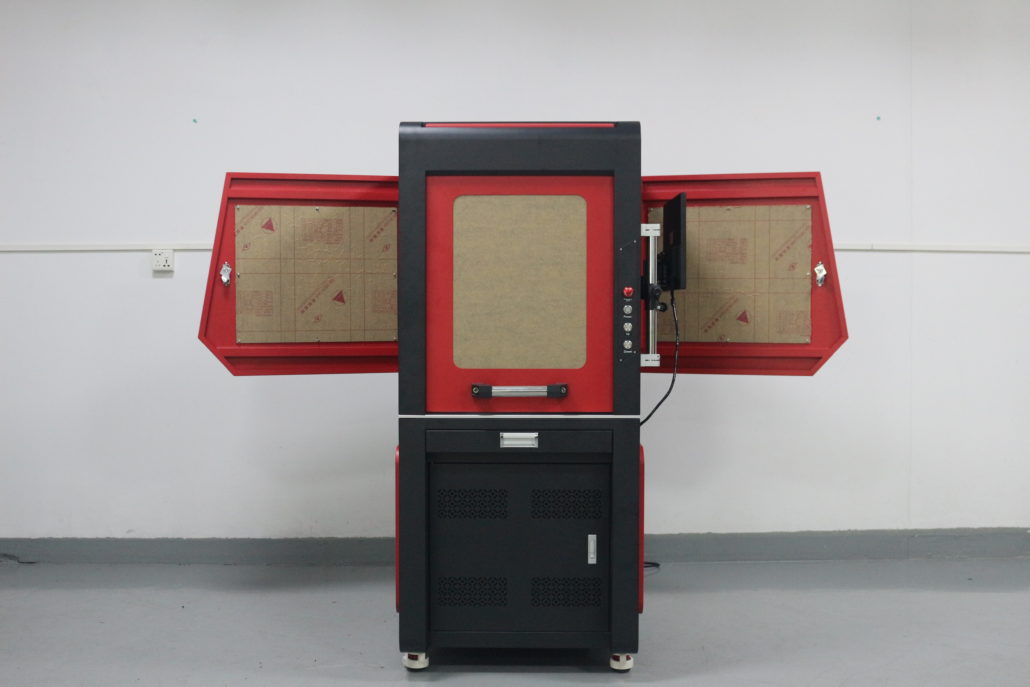 5W 8W 10W UV Laser Marking Machine
The enclosed UV Laser Marking Machine is ideal for high-end ultra-fine processing such as pharmaceuticals and food. The machine's enclosed fiber laser has a unique low-power laser beam. Laser marking enclosed fiber has high precision temperature control and stable water cooling.
Technical Parameters:
| Model | LS-UV-3/5/8/10 |
| --- | --- |
| Power | 3W 5W 8W 10W |
| Wavelength | 355nm |
| Beam Quality | M2<1.3 |
| Output Power | 10%-100KHz |
| Output Frequency | <±2%rm |
| Power Stability(8h) | <±3%rms |
| Pulse to pulse instabilit | TEMoo(M2<1.3) |
| Spatial Mode | <2mrad(full angle) |
| Beam Divergence | 0.6±0.1mm |
| Beam Diameter | >90% |
| Beam Roundess | <50urad |
| Pointing Stability | H50rad |
| Polarization Direction | Horizontal |
| Polarization Ratio | 100:1 |
| Cooling | Water-cooling |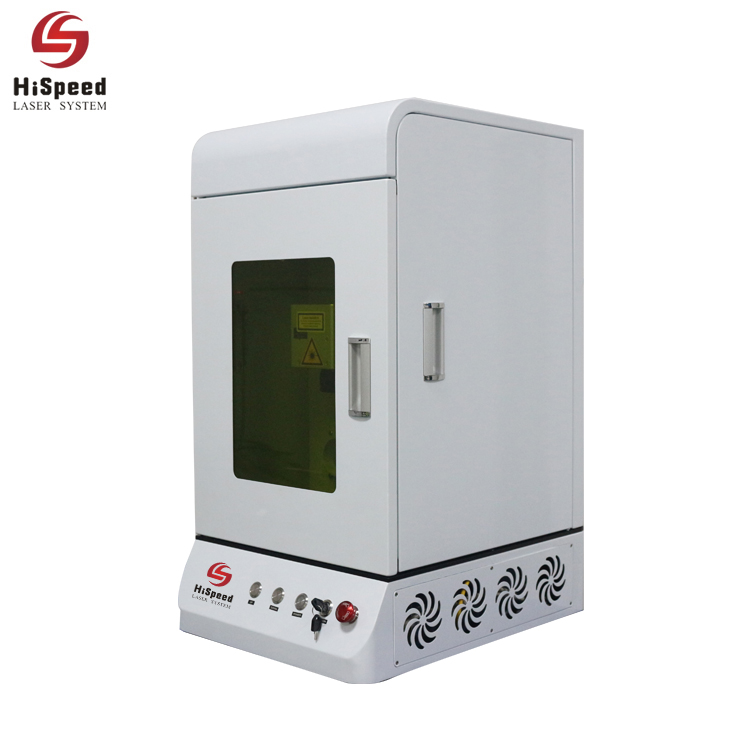 Enclosed Desktop Mini Laser Engraving Machine
The Enclosed Desktop Mini Laser Engraving Machine is able to mark logos, characters, and serial numbers on both metal and non-metals. It does not require consumables. It is extremely cost-effective. Marking speed and accuracy is high. It's widely used and well-received in the international market.
Technical specifications
| Model | LS-YLP-20L/30L/50L |
| --- | --- |
| Power | 20W 30W 50W |
| Wavelength | 1064nm |
| Beam Quality | M2<1.3 |
| Output Power | 10%-100%(continuously to be adjusted) |
| Output Frequency | 20KHz-100KHz(continuously to be adjusted) |
| Power Stability(8h) | <±1%rms |
| Focus Spot Diameter | <0.01mm |
| Engraving Range | 110*110mm,175*175mm ,200*200mm |
| Engraving Depth | 1.2mm |
| Engraving Speed | 800 standard characters/second |
| Minimum Line Width | 0.012mm |
| Minimum Character | 0.1mm |
| Repeated Accuracy | ±0.003mm |
| System Operation | Windows10 |
| Cooling Mode | Air Cooling |
| Environment Temperature | 10ºC~35ºC |
| Environment Humidity | 20%-80% |
| Power Requirement | 220V/Singlephase/50Hz/<400W |
| Life of Laser Module | 100000Hrs |
200W Spot Laser Welding Machine
Laser spot welding is one the most important applications in material processing technology. The spot welding process is of the heat transfer type, i.e., the laser radiation heats the surface of the workpiece. The jewelry closure laser spot welder is dedicated to jewelry design and is mainly used for jewelry repair holes and blister repair.
Spot Laser Welding Machine is widely used for precision machining tiny parts, diamond rings, bracelets, dentures, cell phone charger interfaces, medical devices, etc.
Technical specifications
| Model | HS- SS200W |
| --- | --- |
| Laser power | 200w |
| Laser wavelength | 10640m |
| Single pulse maximum energy | 90J |
| Laser types | Nd:YAG |
| Laser welding depth | 0.1-3.0mm |
| Pulse width | 0.1-20ms |
| Combo laser welding frequency | 0-50HZ |
| Spot size adjustable | 0.2-3mm |
| Machine power consumption | ≤6KW |
| Electrical requirement | AC220V 10%/50Hz 30A |
| Cooling method | Water cooling |
| Observing systems | 10X microscope or high definition CCD |
| Protective gas | Argon |
| Host system size | 1220X1000X600mm |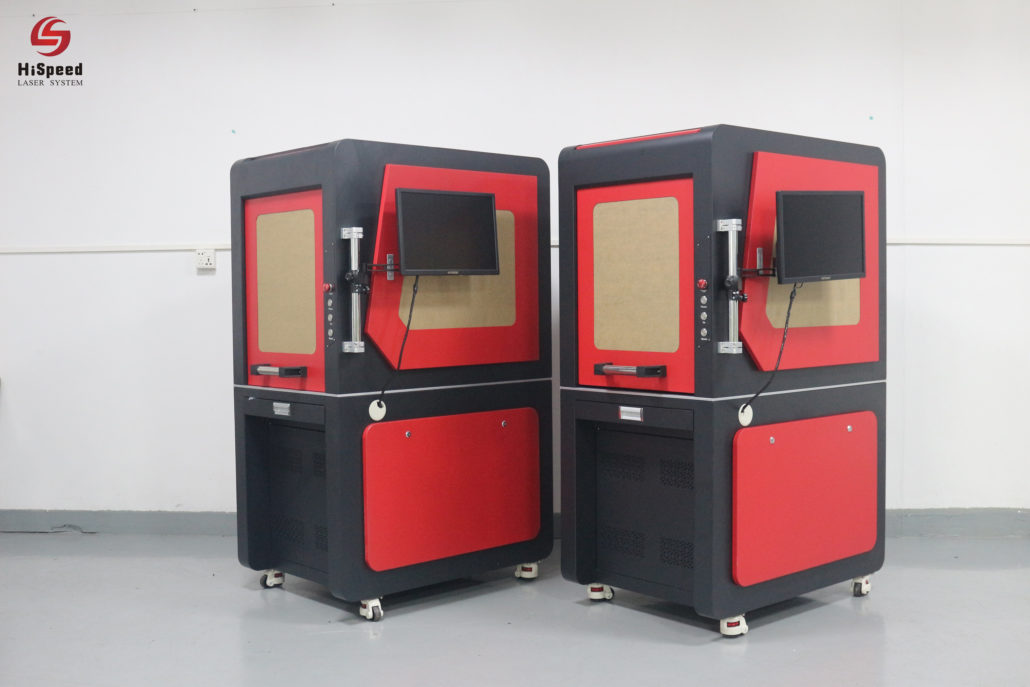 Enclosed fiber laser cutting machine for Glass
High-speed laser drilling and enclosed fiber laser cutting machine with JPT series laser source, stable machine performance, affordable cost, and after-sales service support.
This closed cutter has stronger pulse energy. The power covers 100-250W and is mainly suitable for battery electrode cutting and cleaning, glass drilling, and other applications. Applications industries are found in photovoltaics and new energy vehicles.
How to use an enclosed fiber laser marking machine?
The laser machine has a simple working logic. Before marking, you only need to enter the necessary parameters in the computer's program. After entering the parameters, the computer will automatically give the instructions, and the enclosed laser marking machine will start working according to the computer instructions. The whole process does not require supervision and is very convenient and efficient.
What are the types of Enclosed fiber laser marking machines?
Fiber laser machines are marking machines whose method varies depending on the area in which they are used. These markings can be based on parameters like the length of the mark and the material used. The type and surface of the marking will determine the. There are four types of laser engraving using enclosed fibers.
Annealing
Scraping
Staining
Foaming
Annealing
The annealing process would be the best choice if the material to mark in the fiber laser engraving process is made of metal-containing carbon. It is slower than normal marking and takes longer. It is used to discolor the area marked and oxidize the material. You can get a wide variety of colors through oxidation. There may be a variation in the accepted colors from one material to another. This is more prevalent in the defense and automotive industries.
Scraping
Individuals and organizations who want to use fiber laser marking are fondly familiar with this method. The area of the effect can be increased by marking barcodes, serial numbers, and text on metal. This engraving technique is used primarily for the marking of gold and silver jewelry and is widely used in mold making.
Staining
The standard method for marking plastic is the coloring method. This method changes the structure and stability of the plastic pigment molecules by marking it. This type of marking displays a contrasting color on the surface.
Foaming
Foam is one of the best types of marking for marking plastic and polymer surfaces. Text and drawings can be formed in the bubbles created during melting by melting the material at the required rate. The bubbles forming in the direction of the material's surface produce different shades.