Do you want to develop a business related to laser engraving machines? Do you want to buy the best laser cutter machine for small businesses? If you are a Small Business that is just starting to learn about laser engraving machines, you don't know much about them. Next, we will present ten different best laser cutter machines with different prices and features. Read this article to find out which small best laser cutter machine or the cheapest cutter is best for small businesses.
What type of Laser Cutter Engravers is best for small businesses?
Best Laser cutter engravers can make the job of small businesses more accessible. The best Laser Cutter Engravers for a small business is one that works out of the box and has powerful software that is easy to use. At the same time, a low price is not necessary for choosing the best laser cutter engravers for a small business. This is because small companies buying cheap laser cutters and engravers can require many maintenance and repairs. Safety is also very important for businesses to avoid injury and prevent liability if employees are involved.
Is a cheap laser cutter engravers up to the job?
I think that small businesses should invest in a high quality laser cutter as early as money allows. This is because high quality laser cutters are the higher specification and easier to operate.
Most laser cutters under $800 do not have good operating software and are of a lower specification. Therefore, I would not recommend a small business purchase a laser cutter engraver that is too low in price.
New Desktop Fiber Laser Cutter Engravers
Feature
Laser Power 20W 30W 50W
Max.Line Speed 7000mm/s
Repeatability ±0.01mm
Power Requirement 220V±10%/50Hz or 110V±10%/60Hz
154cm*68cm*75cm
Introducion
This is a very advanced laser cutting machine. Its laser source is the world famous brand Raycus/JPT/MAX/Super fiber laser equipment. It is also currently the best selling laser cutting machine and one of the most suitable for small businesses with no working experience. This laser engraver has a moderate size (68cm x 75cm x 154cm) and can be perfectly integrated into various locations such as offices and factories. It delivers a consistent power output and perfect results. Whether engraving metal, wood, leather, etc., it is ready for mass production.
At the same time, the computer system of the best laser engraving and cutting machine is simple and straightforward to use. It has two fan exhaust systems for good heat dissipation. It can work for long hours for small businesses and meets continuous work in mass production. According to statistics, each best laser cutter machine has an average service life of 100,000 hours. And the business promises a lifetime after-sales service with free technical guidance. Small businesses with low operational requirements can choose this cutter.
Economical Fiber Metal Laser Cutter Engravers
Feature
Brand IPG, Max, JPT,Raycus,Super (optional)
Lifetime 70,000 – 100, 000 hours
Cooling Mode Air Cooling
Continuous Working Hours 22 hours
Marking Software Ezcad English Version
Graphic Format Supported DXF, PLT, AI, BMP, etc
145cm*80cm*60cm
Introducion
This is an economical laser marking machine. It is also one of the most popular lasers marking machine series for small businesses. This best laser cutter for metal can be used to engrave metal and non-metal materials such as stainless steel, alloys, leather, glass, etc. It has a moderate size (80cm x 60cm x 145cm) and looks great. This fiber laser marking machine can also engrave delicate objects and accurately engrave patterns that require high engraving accuracy.
Another outstanding feature of this fiber laser marking machine is its fast marking speed, but it is not suitable for long periods of uninterrupted continuous work. If you use it for more than 22 hours, please stop it temporarily. Therefore, it is suitable for small-scale finishing in small businesses but not for mass production.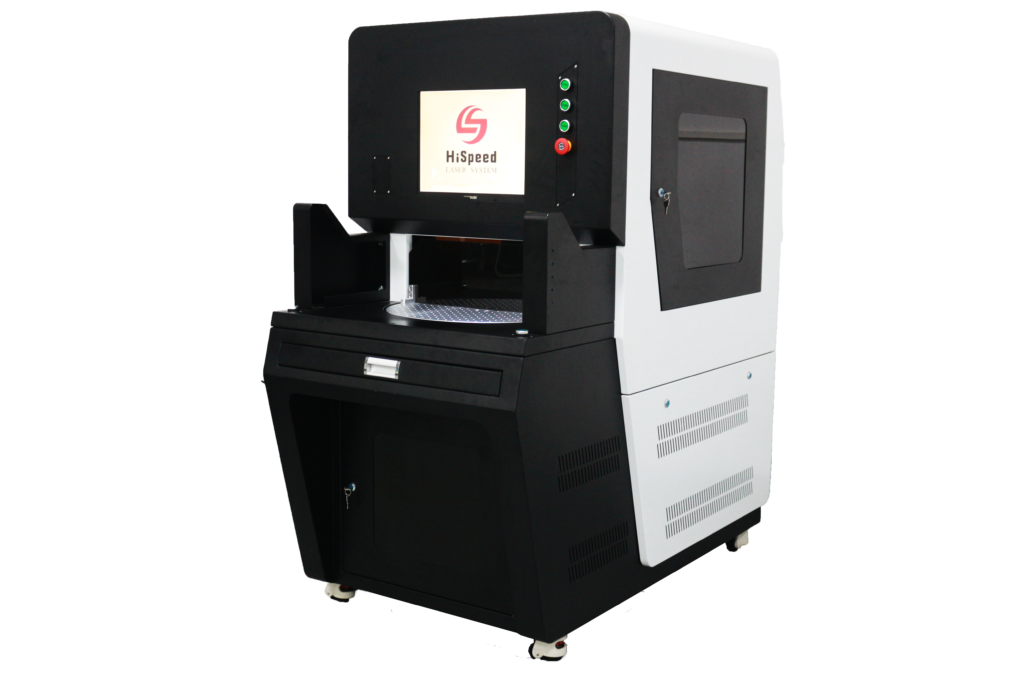 New Designed Fiber Marking Machine With Double Laser Heads
Feature
Lifetime 70,000 – 100, 000 hours
Cooling Mode Air Cooling
Continuous Working Hours 12 hours
Marking Software Ezcad English Version
Graphic Format Supported DXF, PLT, AI, BMP, etc
850cm*1450cm*1609cm
Introducion
This fiber laser marking machine is suitable for static metal materials. This is a powerful laser cutting machine. Although it is not an industrial-grade machine, it is ideal for small batch production. Its small size makes it suitable for placement in any space. And two laser heads can work at the same time, which improves production efficiency. The laser marking machine can leave a permanent mark on the part. If small businesses want to print exclusive barcodes on their products, this marking machine is a good choice. Because its marking effect is perfect, the etching mark left by it is permanent.
This laser marking machine has a very sturdy structure and two laser heads. A networked computer system can help you both in setup and daily use.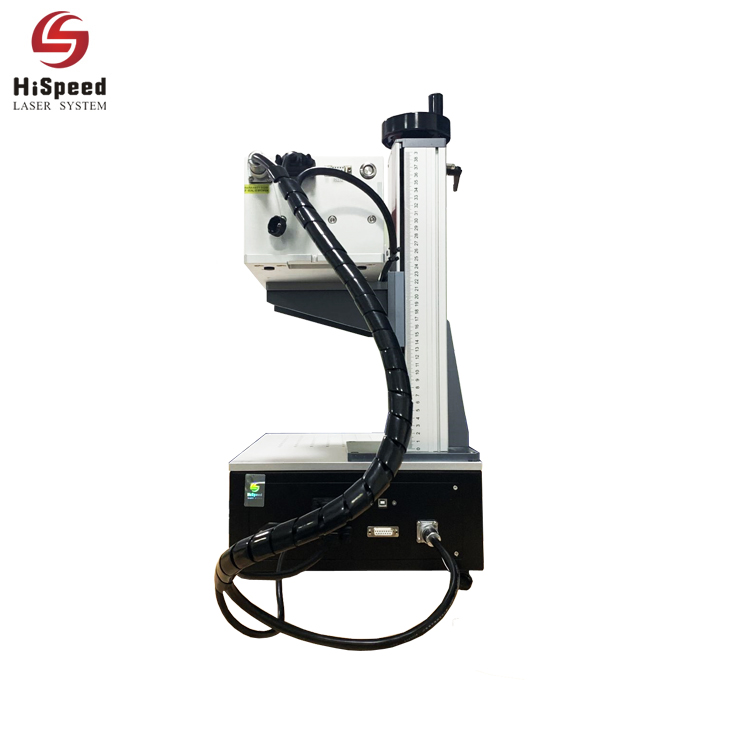 Hispeed Automatic Double Station Fiber Laser Cutter Engravers
Feature
Brand IPG, Max, JPT,Raycus,Super (optional)
Lifetime 70,000 – 100, 000 hours
Cooling Mode Air Cooling
Marking Software Ezcad English Version
54cm*32cm*66cm
Introducion
The most significant advantage of this laser marking machine is its fully enclosed design. The whole marking process of the marking equipment is carried out in the machine. So we don't have to worry about being damaged by the laser during the marking process. This fiber optic marking machine can be used on both metals and non-metals with no material restrictions. However, the size of this marking machine is large (850cm x 1450cm x 1609cm). Therefore it is not suitable for places where space is small.
Also, this laser marking machine is available in various models and sizes, which can be customized according to the customer's needs. In addition, it can work continuously, so it is suitable for small businesses with long marking or engraving production.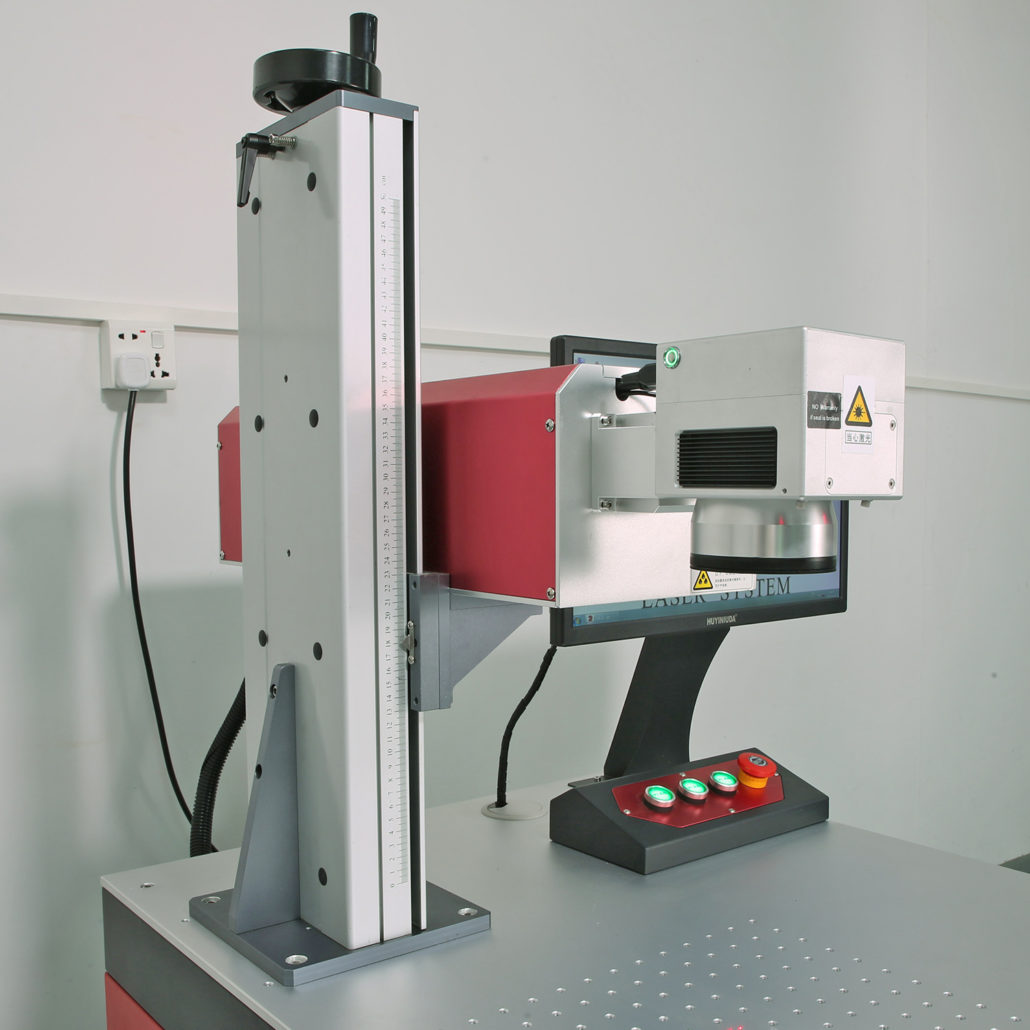 Desktop UV Laser Marking Machine
Feature
Output Power 10%-100KHz
Output Frequency <±2%rm
Power Stability(8h) <±3%rms
Pulse to pulse instabilit TEMoo(M2<1.3)
Spatial Mode <2mrad(full angle)
Beam Divergence 0.6±0.1mm
65cm*80cm*150cm
Introducion
This is a best laser cutter machine with UV light. It can engrave or mark the desired design very clearly. No matter how complex the barcode or design to be drawn is, it can be engraved. This is a precise laser marking machine. However, this laser marking machine is more suitable for engraving non-metals, such as ceramics and rubber.
The benchtop UV laser marker has a long service life. Thanks to the well-known brands that assemble all its components, the engraving results are the best of all the marking machines. It is particularly suitable for marking pharmaceuticals, mobile phones, etc. So small businesses with high requirements for engraving patterns can choose to buy this marking machine.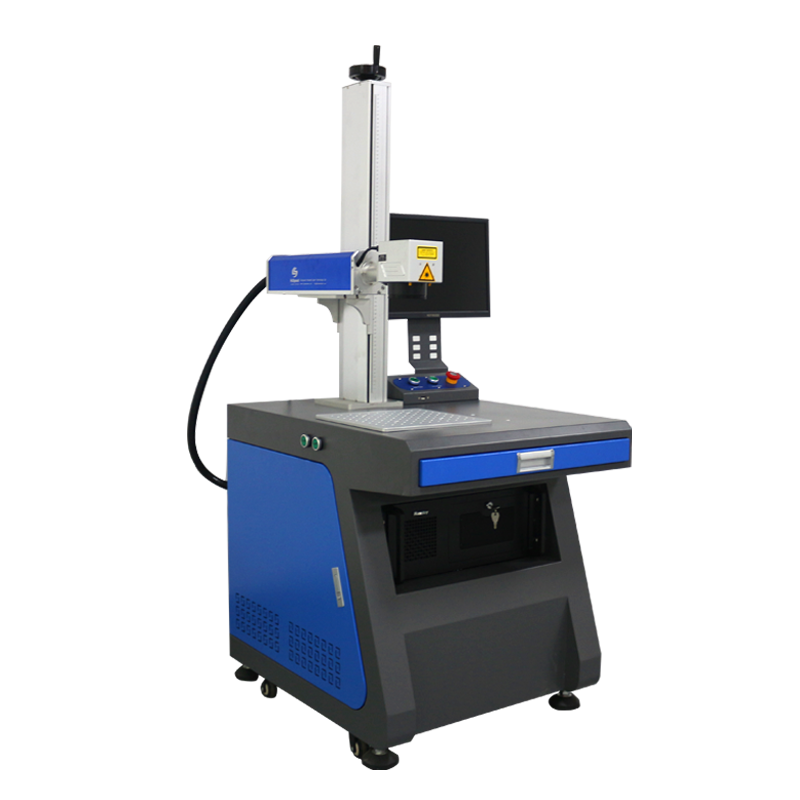 Large Size 3D Dynamic CO2 Laser Marking Machine for Paper Card
Feature
Laser power 180W
Marking Speed ≤7000mm/s
Power Consumption ≤ 5 kWh
Worktable Aluminum Honeycomb Worktable
Laser Source Coherent CO2 metal RF Laser Tube Made in USA
Laser Wavelength 10.64μm
Scanner CTI America
Repetition Precision 0.01mm
80cm*60cm*145cm
Introducion
The CO2 laser marking machine is suitable for all non-metallic materials. It is the best choice if a small business engraves non-metallic materials. It is powerful and the marking cuts quickly, 10 times faster than a normal cutting machine. The laser head of the CO2 laser marker is very flexible and easy to operate, making it suitable for laser marking of wood, denim and leather.
The CO2 laser marker has a very high precision for non-metal engraving. Its operating speed and processing accuracy is 20% higher than that of a normal non-metal laser marking machine. The CO2 filling in the equipment does last an average of 20,000 hours and needs to be refilled after use. The whole marking machine is metal sealed and the operation process is very safe.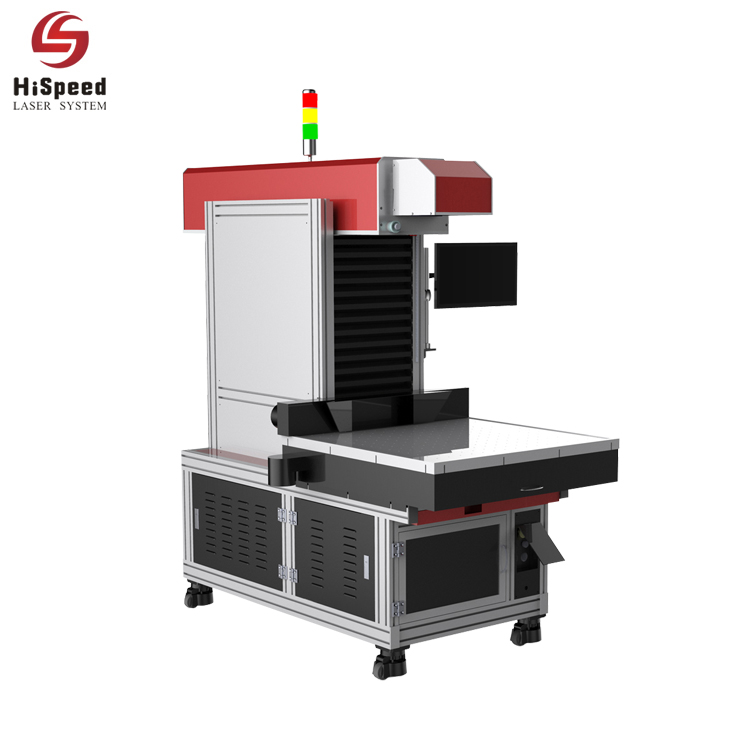 Fiber Online Flying Laser Marking Machine
Feature
Minimum Character 0.1mm
Repeated Accuracy ±0.003mm
Cooling Mode Air Cooling
Environment Temperature 10ºC~35ºC
Environment Humidity 20%-80%
Power Requirement 220V/50Hz/ or 110/60Hz
Life of Laser Module 100000Hrs
68cm*75cm*154cm
Introducion
The best laser cutter machine uses an automatic feeding system with fast speed and high production efficiency. It is suitable for the printing of food and medicine. The laser fiber marking machine can be mass-produced with high precision. It can perform high-quality dot-matrix or graffiti laser coding on fast-moving products to meet the needs of various production lines. No matter how precise the pattern is, it can be accurately carved out. This is one of the few marking machines that can engrave mobile products. I think this is the best laser cutter machine for small business
Things to consider when buying best Laser Cutter Engravers for small businesses
The requirements for laser cutting and engraving are completely different for different jobs. Here, you often work with everything from hard metals to very soft materials that can break if not engraved properly.
With so many new unknowns, you may not know what to do, how much to spend and what is right for your business.
Whether you want an engraving machine for personal or professional use, here's what you need to consider.
1. Price
Okay, I started talking about the best Laser Cutter Engravers to try and go for a higher price. Small businesses need to know exactly how much you can pay (and afford). I don't recommend that small businesses buy the most expensive laser engraver. But go for one that is a little more expensive when our funds allow. The laser cutters and engravers we cover here range in price from less than $500 to almost $10,000. So, as you can see, prices vary widely.
2. Software compatibility
With laser cutters and engravers, small businesses will have one of two options. The first option is to force all your work into the software that comes specifically with the engraver. The second option is an engraver that can be used with your software. This way, if you have created something in CAD or Adobe assets, you can transfer it to the engraver.
The software that comes with it will often cost less, but it may reduce your ability to be fully creative as you will be forced to use specific fonts and designs.
Also, Laser Cutter Engravers have a USB connection and a Bluetooth connection. If you don't mind a wired connection, you should have no problem. Other times, if small businesses want to free up space for your work, you should consider devices that use wireless technology.
3. Material selection
The material that the best Laser Cutter Engravers are used for engraving is an important factor in choosing the right laser engraver. Some of these laser cutters and engravers are only suitable for softer, non-metallic materials. Examples include leather or acrylic. If small businesses want to engrave brass or wood, you will want to choose special Laser Cutter Engravers suitable for engraving metal. There are, of course, some laser engravers that are compatible with both engraving and cutting metal and non-metal, but these machines are generally more expensive.
This is where small businesses need to know exactly what your plans are in advance, otherwise, you may end up with laser cutters and engravers that do not meet your needs.
4. Size
How much space have small businesses set aside for Laser Cutter Engravers to be placed? When you increase the price point and upgrade the features, you will also find that many of these units are much larger (and heavier) than those you find on the less expensive side.
The size of the engraving machine is not always obvious in pictures, so make sure you check the product specifications. You don't need to have the UPS on your doorstep only to find that the package is as big as the actual front door. Always know the specifications before ordering.