As laser cutter machine become more inexpensive, we have seen a dramatic shift in the consumer sector. What was previously a primarily industrial tool is now found in schools, maker spaces, and even homes.
The range of cutters available extends from low-cost models to semi-professional and industrial-grade devices. Here are a couple of the most popular desktop laser cutters on the market right now to provide you a general perspective.
Metal Fiber Laser Marking Machine with Dynamic Focus Systems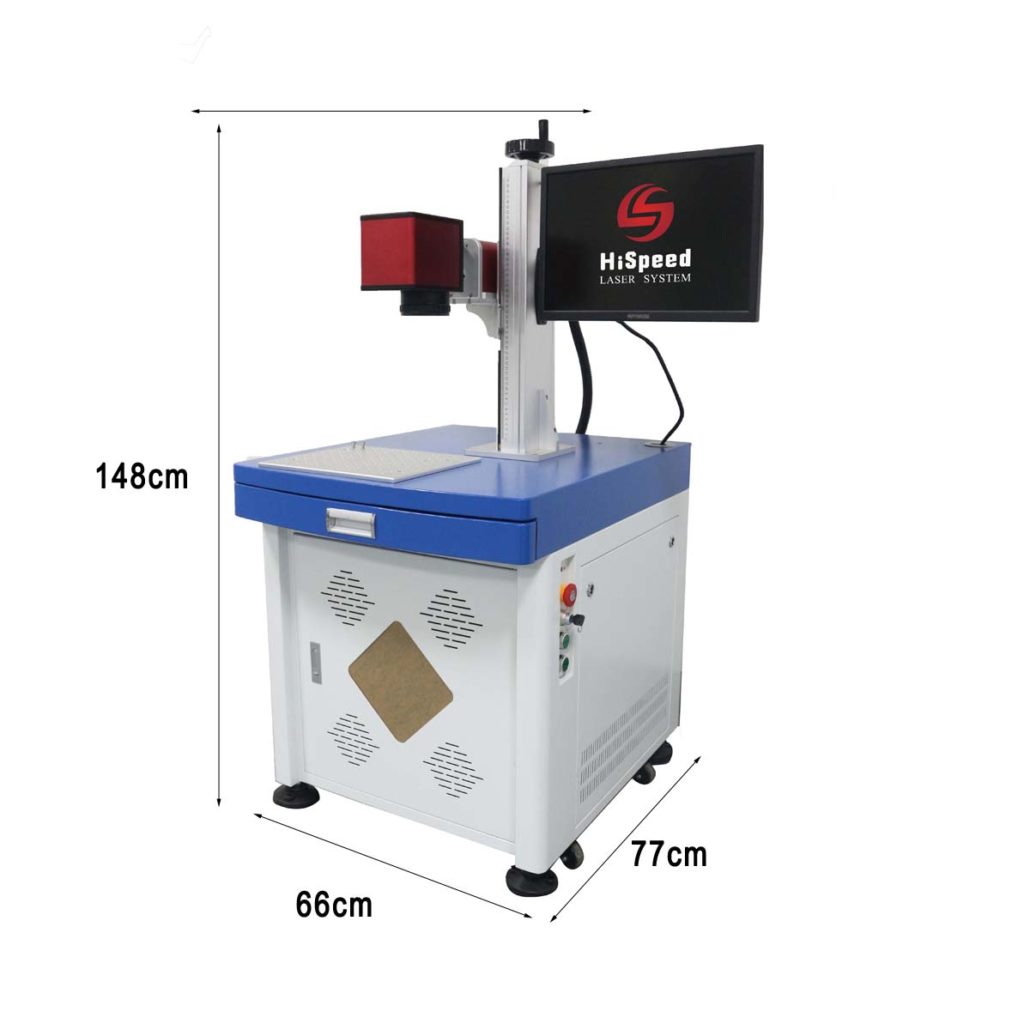 The best solution for laser marking machines to mark curved surfaces of large objects is to install a dynamic focus system. This metal marking machine with a dynamic system is the best solution to achieve a minor face focus and the largest marking. It will be high speed and flexible. Applications such as cardboard, soft sheet metal for engines, machine tools, etc. For the other marking machines listed today, it is relatively expensive. But its price is much lower than other marking machines with the same specifications and functions in the market.
This metal laser marking machine can be used in the electronic communication industry keyboard, electronic components, fiber optic cables, cables, etc. It can also be used in the golf equipment industry for measuring tools, cutting tools, locks, knives and scissors, medical equipment, fitness equipment, stainless steel products, etc. This metal laser engraving machine can also be applied to the metal casing, table bottom, glass frame, instrument panel, etc.
OMTech 40 W (DF0812-40BG)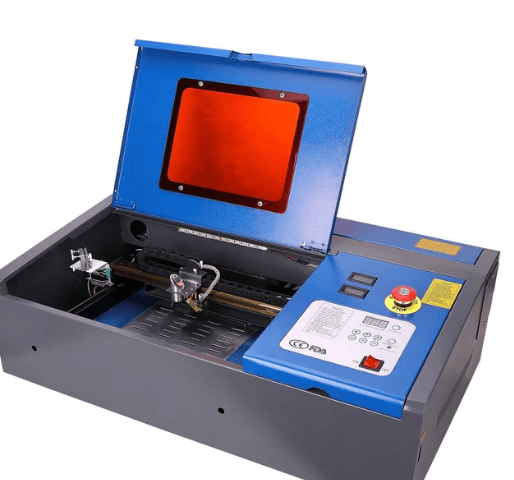 OMTech is the North American branch of Orion Motor Tech, a Chinese maker of laser engravers and cutters based in Beijing. It imports the equipment into the United States, where it undergoes extra quality control tests before providing a two-year warranty and reselling the devices to other businesses.
Because of the presence of US-based customer care, there is a little more peace of mind than you would receive if you imported a K40-style laser from a faraway country.
When cutting, this 40-watt CO2 laser engraver and cutter (model identification DF0812-40BG) has a cutting area of 300 x 200 mm, a resolution ratio of 4500 dpi, and a maximum cutting speed of 80 mm/s. It is a tiny equipment.
Despite the fact that this is an excellent entry-level model into the field of laser cutting, the price is beginning to rise. Previously, this laser cutter machine machine would have cost you less than $400, but it will now put you back more than $500 dollars.
Modernization and modification of these devices are popular because they allow for the creation of a more personalised and well-rounded product. Certain components, such as an improved exhaust fan, water pump, or even the laser tube, are frequently upgraded by users.
This laser should be able to cut as deep as 2-3 mm into the material, depending on the substance. This covers the traditional materials such as leather and wood, but it also includes rubber and the ability to engrave coated metals.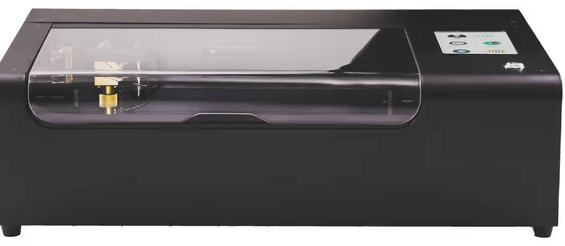 The Beamo 30W laser engraving and cutting machine is Flux's entry level laser engraving and cutting machine, and it attempts to strike a balance between price, ease of use, and capabilities. For the most part, it does an excellent job, and its aesthetic and user-friendliness are undoubted of the highest quality in terms of execution.
Testing, cutting, and engraving a range of materials revealed that it performed admirably with little fuss or the need to change with the settings all that much. Laser focusing is flawless, and the desktop application that comes with the Beamo offers a wide range of duties that the device can perform, as well as setting choices that allow you to customize the task you're attempting to complete.
There are various disadvantages. Although the etching and shading could be improved, the app didn't always operate, and the camera preview mode didn't cover the entire work area, the Beamo managed to amaze us despite these shortcomings. Recently, we've noticed a gradual increase in laser cutter machine Price, which is now around $500 more expensive than it was at the beginning of 2021 at $1,995.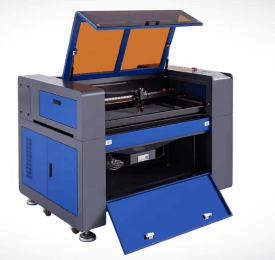 This laser cutter engraver from the same business, which has a power of 70 W, is replacing an OmTech model that had a power of 80 W previously. It has less power than the previous 80 W model (whose price had skyrocketed as a result of the price increase), but it makes up for the loss of 10 W in other ways.
The most significant is auto focusing. A single button press should be sufficient to settle and focus this laser, saving time and effort by eliminating the need for manual adjustment and fine tuning. It has a work area of 395 x 750 mm and a 4-way pass through, which means it can work on objects that are larger than it is in terms of length. This machine should prove to be less difficult to use with than the 80 W laser it replaces in this buyer's guide because it has an adjustable base that, according to OmTech, enables for simple height adjustment, according to the company.
Another advantage is the inclusion of the Ruida control board, which is designed to work seamlessly with the popular LightBurn laser control software.
OmTech claims that the 70 W CO2 laser tube that powers this equipment has a life expectancy of up to 8,000 hours of operation, depending on how it is used. If you keep it running at full power all of the time, its lifespan could be reduced by half.
Full Spectrum Laser Muse Core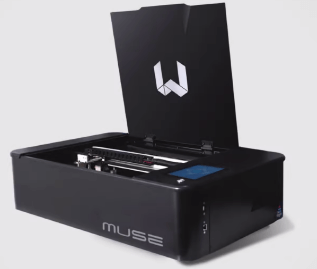 The Full Spectrum Laser Muse Core is a 40 W (or optionally 45 W) CO2 laser cutter machine with a 508 x 305 mm workspace and a number of beneficial features that should be considered by anyone looking for a laser cutter in this category.
Muse Core is also not the cheapest cutter on this list, but it is a little less expensive than Glowforge (its major competitor) and has a slightly wider construction space as well. Full Spectrum Laser has a long history as well, with the Las Vegas-based company being a well-known manufacturer of significantly more complex industrial cutters than the average consumer laser.
It has enough to recommend it as a viable alternative to high-end machines like the Glowforge, which is especially important for manufacturers and small enterprises. This cutter doesn't have the power to cut through glass or metal, but it should have no trouble cutting through wood, fabric, leather, paper, acrylic, and rubber with ease.
Because it has a removable floor, it can work on objects that are larger than its own dimensions. There's also an optional rotating attachment for cylindrical work, as well as support from a team in the United States – all of which add up to a very attractive package. Optional attachments and accessories are also available for individuals who want something that is a little more tailored to their own requirements.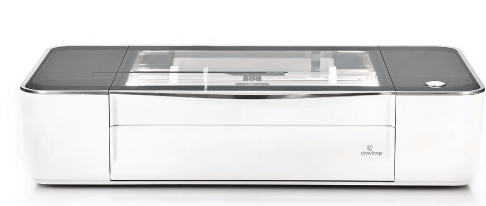 The Glowforge Plus, which is equipped with a 40 W CO2 laser tube that delivers high cutting power and precision of up to 0.025 mm. It is positioned in the midst of the popular Glowforge Basic and Glowforge Pro laser cutting systems. In addition to features such as water cooling, a HEPA filter, and an air compressor that blows away stray particles from the laser, which prevents ignition, it is designed for home and business use.
In addition to leather and wood, it is suitable with a wide range of materials such as acrylic and glass. It can also cut through fabric and cardboard and can cut as deep as 12 mm, depending on the material used. This laser cutter is a machine that is frequently used by small organisations that are looking for a laser cutter that is both versatile and dependable. Please keep in mind that Glowforge is rather unique in that it requires a continuous connection to the internet. If the connection is lost, it may halt and wait for reconnection before completing the cut, depending on the amount of operation it is performing.
SFX 180W Reci W8 CO2 Laser Engraver Cutter Machine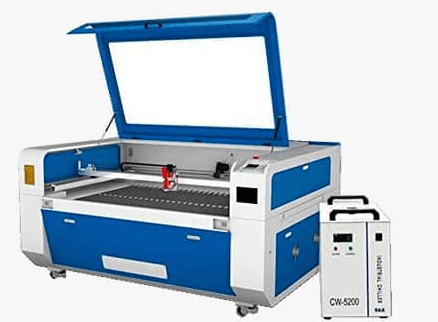 SFX 180W Reci W8 CO2 Laser Engraving and Cutting Machine is the Best less than 8,000 dollars A strong engraving machine with an air-assisted engraving feature. BMP, HPGL (plt. ), JPEG, DXF, ai, DSt, DWG, and LAS file formats are all supported, as are CorelDraw and AutoCAD.
You can't etch metal with the SFX machine. However, almost any other material can be engraved, including bamboo, plexiglass, crystal, wood, glass, ABS, and acrylic, to name just a few examples..
Up to 60000 mm per minute can be engraved, and 5000 mm per minute can be cut using this machine. It has a positioning accuracy of 0.01 mm, so it can engrave even the smallest of details in your materials. There's enough heat dissipation when the machine is working because of the air pump and exhaust fan.
When using the 180W Reci W8, a wired USB 2.0 cable will be required for connectivity with your PC or laptop. This is a large and hefty model. To put it another way, there's no other way of saying it. It's 946 pounds, so you'll need a special spot to store it.
When looking at the SFX 180W Reci W8 CO2 consider some of the following features:
Able to engrave almost any material that exists (besides metal)
Features Windows and Mac operating systems compatibility (with LightBurn software)
sixty-one inches by sixty-one inches by fifty-one inches
It's 946 kg heavy.
Pump and exhaust fan are included.