Looking for appropriate laser welders for your business? Keep reading this article, and you will get all your answers at the end of this topic.
Laser welders are one of the greatest technology in the world. "Laser welding machine fundamentals" already described the importance and application of laser welding in different industries. In this article, we won't go for a basic introduction; instead, we will present the best four laser welders which can quickly improve your business productivity.
Finding the best laser welder for your business isn't so easy. You will need to consider many factors before buying an appropriate machine. This article will not only present the best laser welding machine but also make it easy to understand how to choose the best laser machine for your business. In addition, this article will also demonstrate how laser welders increase productivity.
Best laser welders
HiSpeed Laser Technology Ltd is a famous manufacturer of laser machines. Among them, laser welders are one of our laser products. Each of the laser welding machines in the HiSpeed production line is capable of separate applications in different fields. Some are automated, and some are handheld. Some are special for microchips, and some are special for jewelry.
Before jumping into the details, let's glance at the summary table. This table includes each of the general specifications.
Summary Table
| | | | | |
| --- | --- | --- | --- | --- |
| | Galvometer fiber laser welding machine | Mini laser jewelry welding machine | Spot laser welder for jewelry | Handheld laser welder |
| Power | 750 watts to 1500 watts | 60 watts | 200 watts | 1000 watts to 1500 watts |
| Wavelength | 1064 nm | 1064nm | 1064 nm | 1064nm |
| Machine Power | 13KW | 4KW | 6KW | 4KW |
| Electric requirement | AC220V | AC 220V | AC220V | AC 220V |
| Dimension | 200 mm x 200 mm x 200mm | 540mm x 290 mm x 290mm | 1220 mm x 1000mm x 600mm | 930mm x 600 mm x 880 mm |
| Application | Batteries, cell phone housing, capacitors, hard disk, micromotor, sensor | Spot weld lines, splicing, embedded troops, jump ring | Rings, dentures, cell phones, charger interfaces, hardware, medical devices | Cabinets, kitchen, stairs, elevator, hanger, oven, ss doors, and windows |
Galvometer Fiber Laser Welding Machine
Galvanometer scanning laser welders are practical and can shorten the welding time. This laser welder accurately welds the two parts, which is a clean process. According to the specification, it can weld 1-20 points per second.
Because it is accurate and weld two parts without making any thermal impact, these machines are highly suitable for manufacturing batteries, cell phone housing, circuit boards, micrometre, sensors, etc.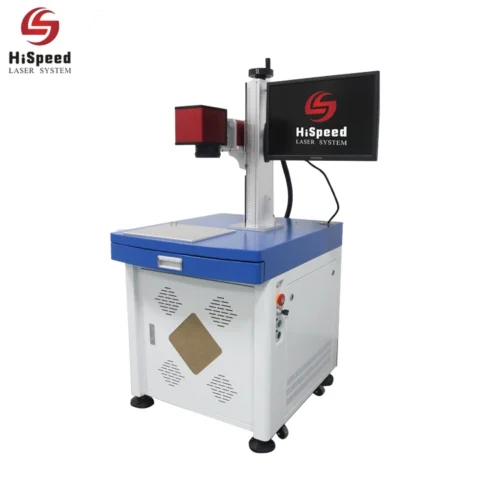 Key Features
Galvanometric System
Precision welding
Latest Operating system, EZCAD
Smooth controlling
Beijing JCZ board card for controlling
Pros
Highly suitable for microelements welding.
Precise, accurate, and localized pinpoint welding.
Best for electronic equipment
Cons
Not suitable for jewelry.
Mini Jewelry laser welder
HiSpeed Laser Technology mainly focuses on the BST60P-V4 model for jewelry works. The cross cursor microscope with a high-electronic filter device provides a clear view of the table elements. Besides, the Digital CCD & touch screen monitor offers more accessibility to the works.
BST60P-V4 is perfect for repairing and welding all types of metals and alloys. This device is fast, accurate, and capable of working for an extended period.
Key Features
Ergonomic Design
Digital display with an electric focusing mechanism
LED ring-shaped astral lamp
Specific light spot for precision welding
Pros
Perfectly made for the jewelry business
Precision welding with no thermal impact which is great for jewelry
Cons
Not suitable for microchips or other oversized materials.
Spot Laser welding Machine for Jewelry
HS-SS200W model is specially manufactured for patching holes and blister repairing for different jewelry materials. This model s widely popular for precision machining, rings, pendants, bracelet, dentures, cell phone charging interfaces, hardware, clock, sports, golf, and medical devices. This model is durable and practical and can work continuously for 24 hours with stable performance.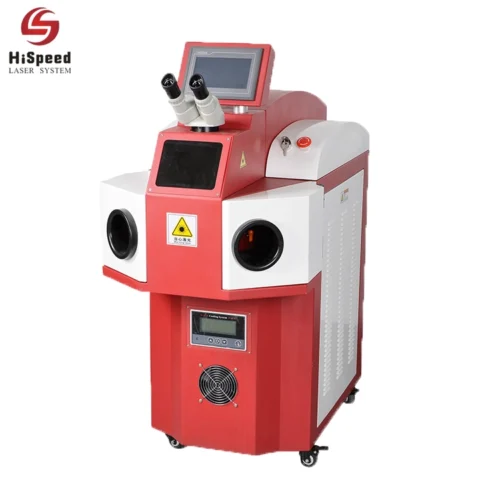 Key Features
24 hours stable performance
Ergonomic design
10x microscope system
7-inch LED display
Pros
Suitable both for jewelry and small hardware.
Microscope and Digital display plays a significant role in precision work
Cons
Comparatively bigger than the BST60P-V4 model.
HiSpeed handheld laser welder
This model is our last best pick from HiSpeed Laser welding technology. This model is neither for small circuit boards nor for jewelry. A handheld laser welder is a handy portable machine accessible anywhere.
These handheld laser welders are widely popular for welding cabinets, kitchens, elevators, stairs, ovens, doors, and windows.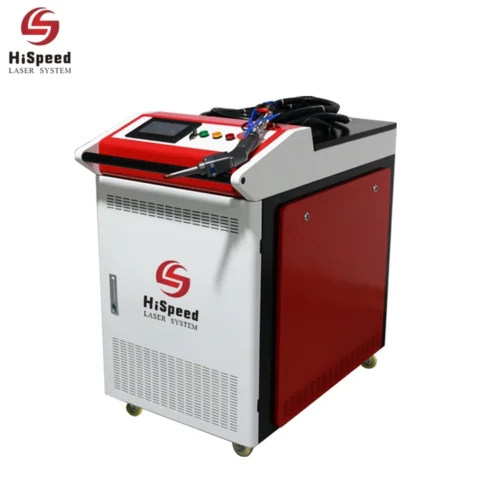 Key Features
High Energy Density
Hand Laser guns
Necessary Buttons
Protective case for laser machines
Pros
Portable, accessible anywhere.
High-density laser ensures strong welding
Low operating and maintenance cost
Cons
Not suitable for jewelry or other small and thin products
Not Automated and does not have an electric focus feature.
How to choose the best laser welding machine
Laser welders are reliable and long-lasting if you choose the right one for your application. Selecting the appropriate laser welder is easy if you follow the steps below.
Brands
Due to high business competition in the market, lots of entrepreneurs have grown on the list. As a result, it isn't easy to choose the best supplier of laser welder machines. Not all companies can ensure reliability. However, HiSpeed laser technology is one of the best laser machine suppliers in the world market. People love our product and will continue because HiSpeed products are reliable, stable and long-lasting.
Laser Type
There are four types of lasers available for laser machines. Usually, laser welders also have four types of laser sources. The fiber laser source is one of the most potent and safe laser sources among the others. HiSpeed Laser technology uses a Fiber laser source for its laser welders. Therefore, HiSpeed laser welders are reliable, durable and assure long life.
Laser pulses
Laser pulses are often determined by Hertz (Hz). The greater frequency produces smaller output. Therefore, perfect welding requires a continuous sufficient amount of energy.
Usually, HiSpeed Laser Technology Laser welders typically use 50 Hz to 5KHz of the laser frequency.
Power thickness
The thicker the welding is, the greater the power needed for the applications. Depending on the variety of materials, the power thickness varies.
Application
Before choosing any Laser welder, it is undoubtedly necessary to distinguish the application of the product. For example, The laser welder for jewelry is not sufficient for cabinets, doors, and windows.
Therefore, Before choosing laser welders, it is essential to distinguish the field of applications.
How do laser welding machines perform in business turnover?
If you bring a laser welder to your business, there will be a rapid change in your business activity. The HiSPeed Laser welder is incredibly fast and accurate compared to the traditional soldering method. And thus, HiSpeed Laser welders perform great on business turnover. Besides, there are other reasons below.
Increased Productivity
As HiSPeed Laser welders are fast, reliable and versatile, a jeweller can now make more products than before. Compared to typical soldering, an operator needs only 10 – 20 hours to finish one piece of jewelry on the HiSpeed Laser welder, depending on the item's complexity.
Like the other portable handheld laser welders, the operator can smoothly finish a task efficiently and quickly. As a result, due to the increased speed of the product line, HiSPeed Laser welding is ultimately increasing the overall productivity of your business.
Smooth Manufacturing
Throughout any Laser welding job, HiSpeed laser welders save time and money. Porosity in metals can result in pitted castings yet when utilizing sophisticated machinery. A laser welder efficiently fixes errors at any manufacturing level to save pricey recasts.
Soldering is not necessary when using a laser welder to attach complicated parts. Laser welding saves time by instantly putting the components in place, whereas traditional methods may involve connecting the pieces before soldering.
Quick repair and restore
A laser welder makes jewelry complex repair and restoration quickly, saves valuable time and makes profitable outcomes. The accurate localized pinpoint completes the complex task without any thermal impact which is unthinkable using the traditional soldering process.
Laser welders are portable, and quick restoration and repair are easy and profitable. For instance, these laser welders are capable of performing multiple tasks. Therefore, undoubtedly laser welders have an impact on your business turnover.
Excellent Reward of Investment (ROI)
HiSpeed Laser laser welders make strong welds with increased speed without any thermal impact, which is accurate and versatile at any location. Considering all these benefits, A laser welding machine will give you an excellent investment reward.
Summary
The laser welder is one of the great products from HiSpeed Laser Technology. However, we have four laser welder models: A galvometer fiber laser welding machine, a Mini Jewelry laser welder, a Spot Laser welding Machine for Jewelry, and a handheld Laser welder.
If you are looking for any laser welding machine for jewelry, a Mini jewelry laser welder and spot laser welding machine for jewelry would be the best. Besides, the Galvometer fiber laser welding machine would be the best if you are looking for a micro-product laser welder. Finally, the handheld laser welder is portable and specially made for cabinets, doors and windows.
Due to the world's competitive business market, many entrepreneurs introduced their products. Among them, choosing the best product is difficult. Therefore we recommend consulting our experts first to learn about your product and why you are buying it.
HiSpeed Laser Technology's laser experts are always waiting to give you a valuable response that can benefit your business by saving time and money.