Product Description
Laser derusting machine is a new generation of surface cleaning high-tech products. It is very easy to install and operate. No chemical reagents, no media, no dust and no water cleaning, auto focus, suitable for crank surface cleaning, high surface cleanliness and other advantages.
Laser cleaning machine can remove surface resin, oil, dirt, dirt, rust, coating, coating, paint, etc. The laser descaling machine is equipped with a portable laser gun.
Application field
1. Removal of surface coating on metal or workpiece;
2. Quickly remove rust, oxide scale and dry paint;
3. Remove resin, grease, residual glue, dust, dirt, and production residues;
4. Coarse metal surface treatment;
5. Dry paint before welding or bonding, remove rust, oil stains, residual glue, and residual glue after welding;
6. Mold cleaning, such as tire molds, electronic molds, and food molds;
7. Dirty oil removal after the production and processing of precision parts;
8. Nuclear power components are quickly cleaned during maintenance
9. Oxidation treatment and rust removal during the production or maintenance of aerospace weapons and ships
10. Cultural relic cleaning, outside the building
Machine Parameters
Operating Environment

Content
Parameter
Supply voltage
single-phase 220V/110V±10%, 50/60Hz AC
Whole machine power consumption
2500W (including chiller)
Place the environment
flat, no vibration, no impact
Working temperature
0℃~40℃
Working environment humidity
≤80%

Optical Parameters

Content
Parameter
Wavelength
1064nm
Average laser power
≥1000W / 1500W
Power adjustment range (%)
10-100 (gradient adjustable)
Repetition frequency (KHz)
20-50 (gradually adjustable)
Cleaning efficiency (m2/h)
5
Focal length (mm)
F160,F254 replaceable

(with double red light pointer for focusing)

Cooling method
water cooling

Mechanical Parameters

Content
Parameter
Machine Size
90×58×100cm
Packing Measurement
116x66x124cm (0.95CBM) wooden case
Net Weight
230kgs
Gross Weight
270Kgs(with wooden case)
Fiber length
3 meters(5-10 meters can be customized)
Washing head weight
2.5Kg
Scan width
10-100mm
Move method
Hand held
Reference Sample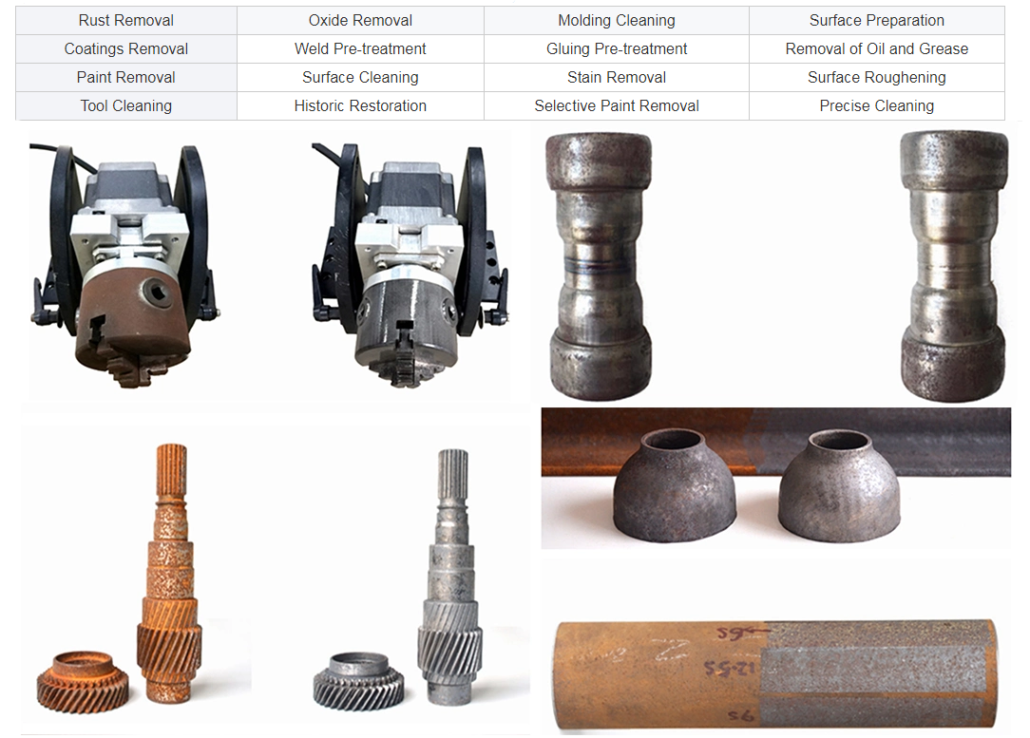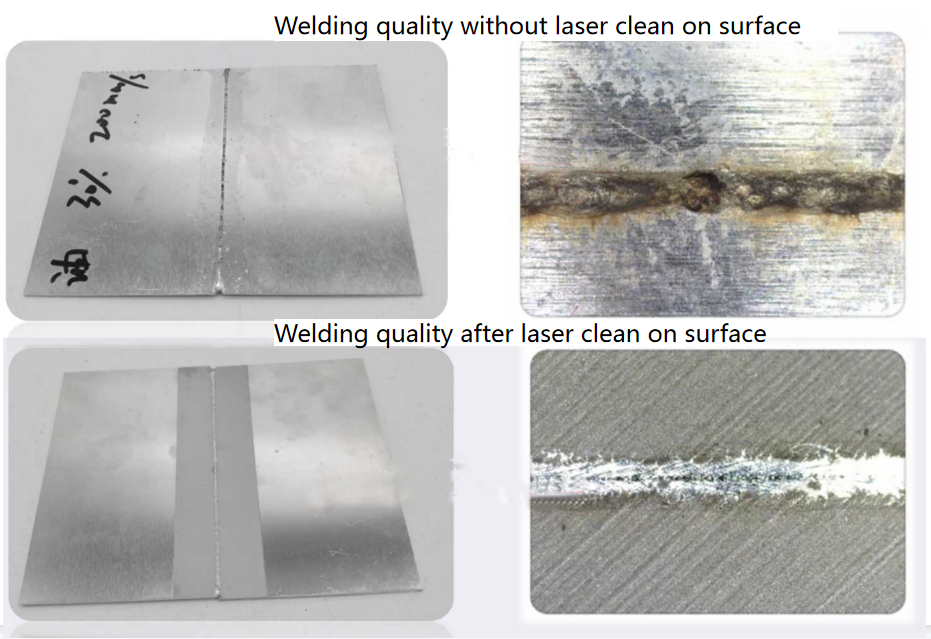 After-sales service
1. All our laser derusting machines will be fully inspected by our quality control department before shipment. We guarantee that all our laser derusting machines have a one-year warranty (excluding wearing parts).
2. Training content: operating principle, system and structure, safety and maintenance, software, processing technology, etc.
3. A large number of customer feedback proves that our laser derusting machine has stable performance and rare failures.
However, once a failure occurs, we hope to deal with it in the following way:
a. We promise to give you a clear answer within 24 hours.
The customer service staff will assist and guide you to analyze the fault and locate the cause.
C. If the fault is caused by a soft fault such as improper software operation, we will help solve it online.
d. We will provide a lot of online support, just like detailed technical and installation instructions provided by email, video, phone (team viewer training).