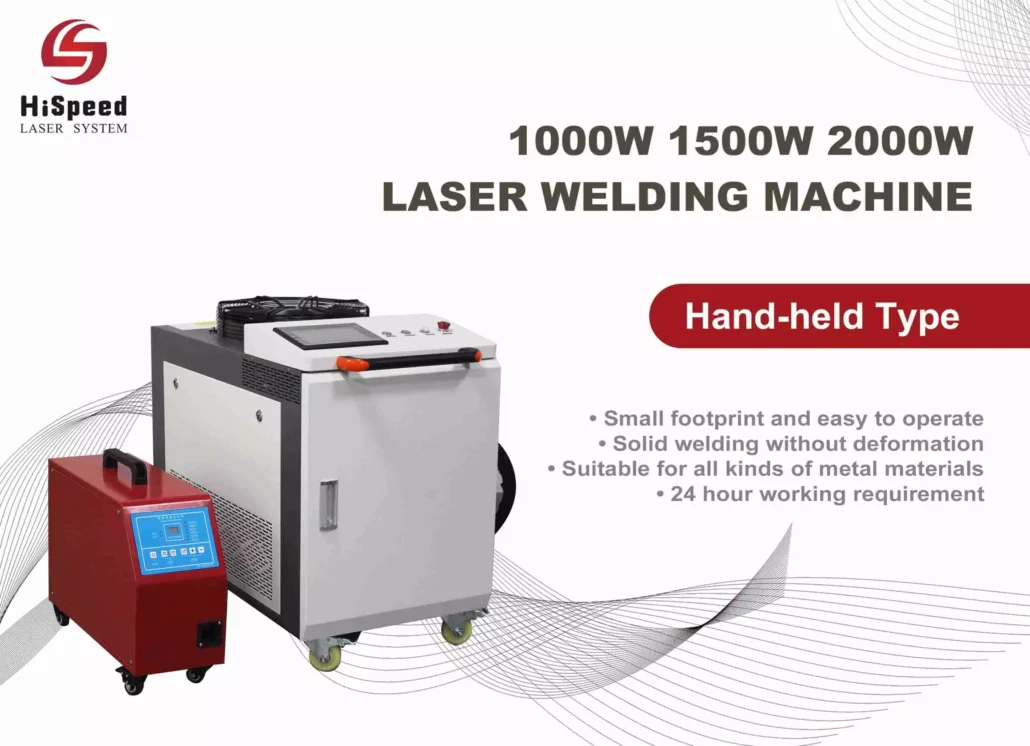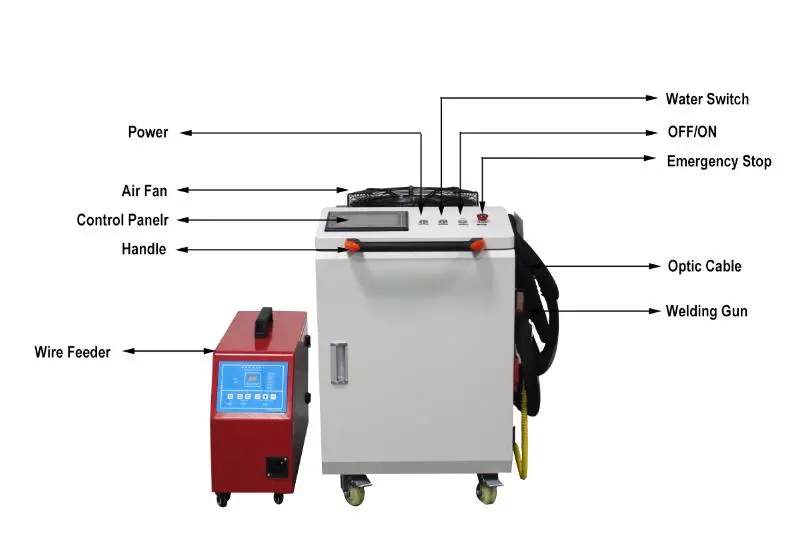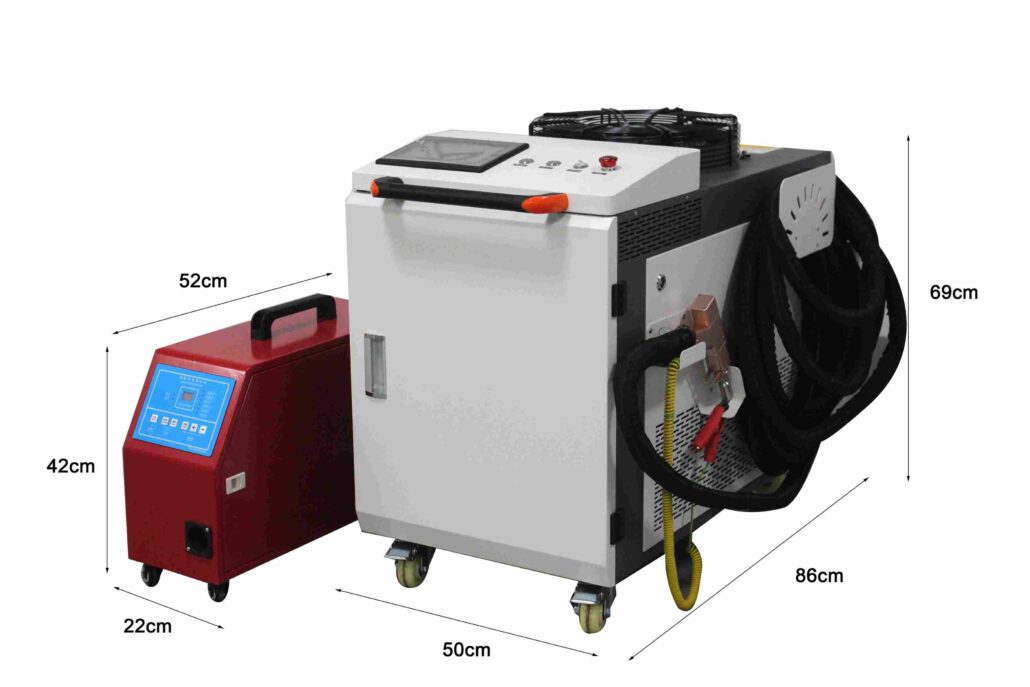 | | |
| --- | --- |
| Laser power | 1000w,1500w,2000w |
| Center wavelength | 1080±5nm |
| Output power stability | <2% |
| Laser frequency | 50Hz-5KHz |
| Adjustable power range | 5-95% |
| Beam quality | 1.1 |
| Optimal operating environment | Temperature 10-35 ° C, humidity 20% -80% |
| Electricity demand | AC220V |
| Output fiber length | 10meters |
| Cooling method | Water Cooling |
| Dimensions |  1210x620x900mm |
| Weight | 170kg |
| Cooling water temperature | 20-25 ° C |
| Average consumed power | 6.5kw,8kw,11kw |
| Pulse Width | 0.1-50ms |
| Focal Spot Diameter | 0.2-3.0mm |
| Laser type | Optical Fiber Laser |
| Warranty | 2 years of the laser source |
| Product name | Handheld laser welding machine |
Application
Hand-held laser welding machine can be widely used in cabinets, kitchens, stairs,elevator, hanger, oven, stainless steel door and window guardrail, distribution box, stainless steel home and other industries which have complex, irregular welding process.
                                Wide application field
                    Hotel supplies                                          High-end home                                        Electrical industry
               Advertising industry                                                                                      Electronic industry
              Food industry                                            Decorative screen                                Automobile industry
            Engineering industry                                 Barking industry                              Environmental protection industry
         Office industry                                         Fitness equipments                                 Medical device indus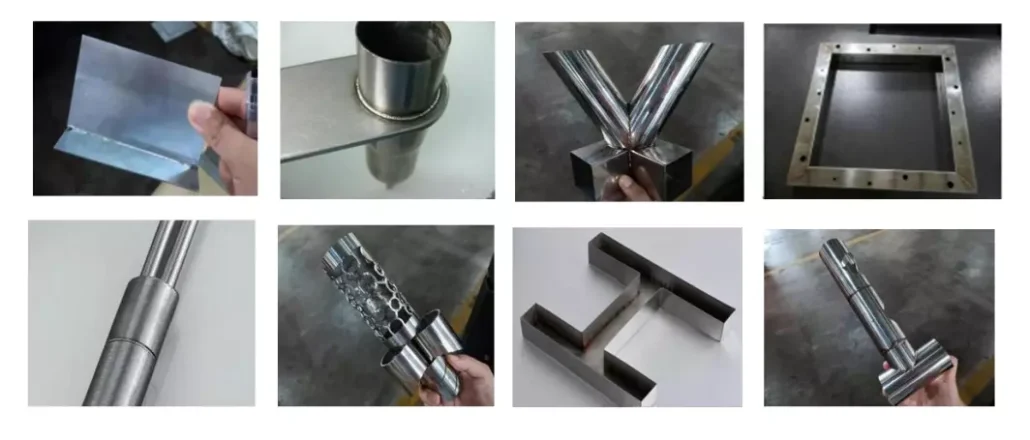 Character
1.The energy density is high, the heat input is low, the amount of thermal deformation is small, and the melting zone and the heat-affected zone are narrow and deep.
2.High cooling rate, which can weld fine weld structure and good joint performance.
3.Compared with contact welding, laser welding eliminates the need for electrodes, reducing dailymaintenance costs and greatly increasing work efficiency.
4.The weld seam is thin, the penetration depth is large, the taper is small, the precision is high, theappearance is smooth, flat and beautiful.
5.No consumables, small size, flexible processing, low operating and maintenance costs.
6.The laser is transmitted through fiber optics and can be used in conjunction with a pipeline or robot.
After Sales Service  
1.All of our machine will be fully-checked by our quality control department before the shipment.We guarantee all of our laser machines have a one-year warranty (quick-wear parts notincluded).
2.Training details: operation principles, system and structure, safety and maintenance, softwarethe processing technique, and so on.
3. Numerous feedback from our clients have proven that our laser machines are stable inperformance with rare malfunction.
However, we would like to handle it as follows oncemalfunction occurs:
a.We guarantee that we will give you a clear reply within 24 hours.
b. Customer service staff will assist and guide you to analyze the malfunction in order to locatethe cause.
c. If the malfunction is caused by improper operation on software and other soft faults, we willhelp solve the problem on line.
d.We will offer plenty of online supports, just like detailed technical and installation instructionsby email,video, telephone. (Training by team viewer)