Product Description of Metal RF Tube Laser Engraver
1)Co2 RF Tube Laser Marker Engraver General Description The Co2 Metal RF Tube laser marker Engraver is a new generation of laser marking system.The Co2 laser marker engraver system adopts the industrial standardization module design. RF series is fitted with a full set of imported metal sealed radiation frequency Co2 laser, and equipped with high-speed scanning galvanometer and extending the focusing system.
2)Co2 RF Tube Laser Marker Engraver Applicable MaterialsCo2 RF tube Laser Marker Engraver is suitable for the majority of nonmetal materials such as leather, cloth, wood, bamboo, paper, organic materials, plastic, epoxy resin etc.
3)Co2 RF Tube Laser Marker Engraver Applicable IndustryThe 30W Co2 Laser Marker Engraver is suitable for electronic components, medicines, food, drinking package, leather products, rag trade, woodworks, craftworks and package.

Technical Parameter:
| | |
| --- | --- |
| Model | LS-CO-60W |
| Laser Power | 60W |
| The Lasers Marker | CO2 Metal Laser Tube |
| Laser Wavelength | 10.64μm |
| Engraving Line Speed | ≤5000mm/s |
| Repeat Precision | ±0.01mm |
| Minimum Line Width | 0.1mm |
| Minimum Character | 0.4mm |
| Marking The Maximum Height | 300mm |
| Power Supply | 220V/50Hz or 110V/60Hz |
| Engraving Depth | ≤2mm/ ≤3mm/ ≤5mm/ ≤8mm |
| Cooling System | Bullt-in air cooling sysem&Water cooling |
| Instructions | Users manuel and Video instruction |
| Power Consumption | 500W/1000w |
| Repeat Frequency | 20-100KHz |
| Standrd Engraving Range | Wothin 300*300mm |
Sample Show: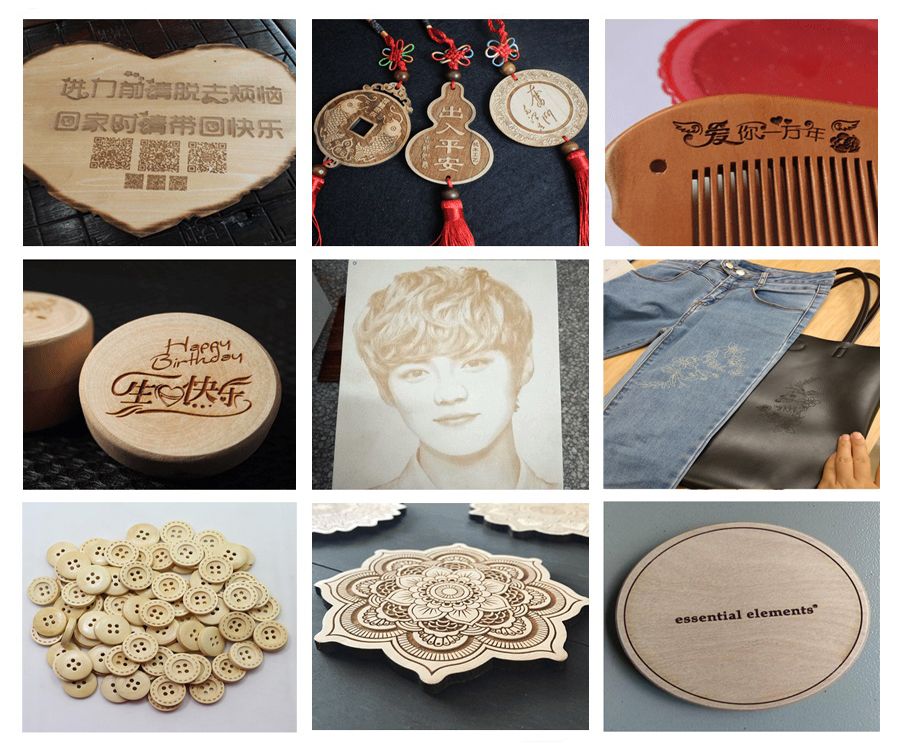 After Sales Service
1.All of our machine will be fully-checked by our quality control department before the shipment.We guarantee all of our laser machines have a one-year warranty (quick-wear parts notincluded).
2.Training details: operation principles, system and structure, safety and maintenance, softwarethe processing technique, and so on.
3. Numerous feedback from our clients have proven that our laser machines are stable inperformance with rare malfunction.
However, we would like to handle it as follows oncemalfunction occurs:
a.We guarantee that we will give you a clear reply within 24 hours.
b. Customer service staff will assist and guide you to analyze the malfunction in order to locatethe cause.
c. If the malfunction is caused by improper operation on software and other soft faults, we willhelp solve the problem on line.
d.We will offer plenty of online supports, just like detailed technical and installation instructionsby email,video, telephone. (Training by team viewer)