Description of Economical Fiber Laser Marking Machine
Features:
1.Intergrated,Ready to Use
2.Free Maintenance
3.No consumable Parts
4.High Speed,Stable,Long Life
Part List:
Fiber Laser Source,20W,30W or 50W laser power
GalvometerScan Head
F-theta Lens,with marking area from 50*50mm to 300*300mm
Marking Control Card and Software
Industrial Computer and Screen
Foot Pedal
Terms&Conditions:
MOQ:1set
Warranty:24 months
Delivery time:3-7days
Payment terms:T/T,50% in advance,50% before shipping
Fiber laser marking machine offers excellent laser beam quality with the newest technology and adopts the high quality fiber laser generator, high speed galvo system to enable stable laser output and high quality laser mode.
This model fiber laser marking machine delivers superior performance and reliability, and provides an industrial marking solution for product identification and trace-ability, and boasts for its fast marking speed, good marking effect and high efficiency to meet the demand of mass production.
For this series fiber laser marking software system, it is allowed customers to mark series numbers, bar codes, 2D Data Matrix and graphics on the widest variety of materials, including most metal materials, and some nonmetal materials, such as plastic, ceramic…..
Furthermore,this model fiber laser Marking Machine also enjoys the advantages of easy operation, low running cost, long-term trouble – free working and free from maintenance.
All these factors devotes to its capacity to satisfy industrial production.
Machine Details:
Applied Materials:
Fiber laser marking machine works on metal and non metal materials , such as stainless steel, carbon steel, alloy steel, copper plate,aluminum plate, gold, silver, titanium,ABS,PVC, ect.
Fiber laser marking machine can work with most metal marking and engraving applications,such as alloy,silver,stainless steel,carbon steel,
brass,copper,aluminum,iron,gold,silver,titanium,tungsten steel,etc,and can also mark on many non-metal materials such as ABS,PVC,Makrolon,etc.
Can cut on some thinner metal products too.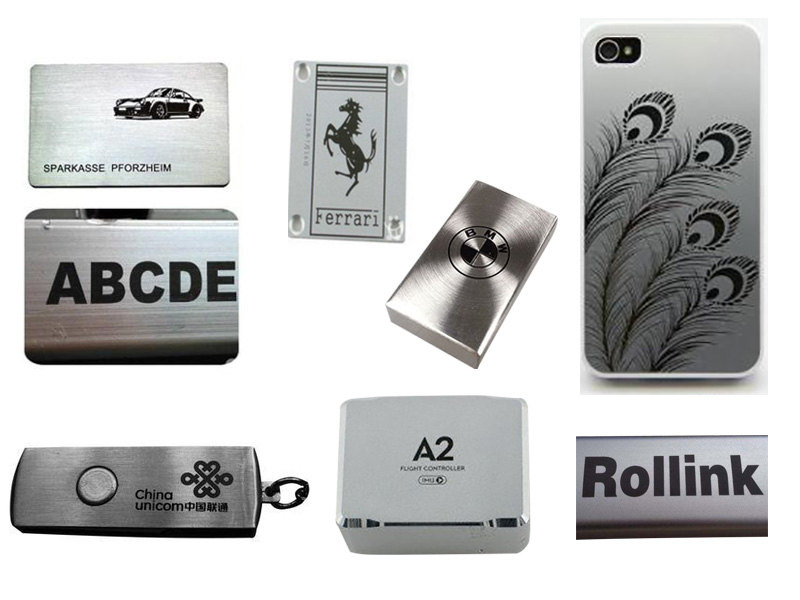 After Sales Service:
1.All of our machine will be fully-checked by our quality control department before the shipment.We guarantee all of our laser machines have a one-year warranty (quick-wear parts notincluded).
2.Training details: operation principles, system and structure, safety and maintenance, softwarethe processing technique, and so on.
3. Numerous feedback from our clients have proven that our laser machines are stable inperformance with rare malfunction. However, we would like to handle it as follows oncemalfunction occurs:
a.We guarantee that we will give you a clear reply within 24 hours.
b. Customer service staff will assist and guide you to analyze the malfunction in order to locatethe cause.
c. If the malfunction is caused by improper operation on software and other soft faults, we willhelp solve the problem on line.
d.We will offer plenty of online supports, just like detailed technical and installation instructionsby email,video, telephone. (Training by team viewer)