Desktop Mopa Laser Marking Machine 20 Watt 30 Watt
Product Introduction
The advantage of MOPA fiber laser is that its pulse width and frequency are independently adjustable. Adjust  one of the  parameters will not affect the other, which is different from Q-switched laser.Q-switching is a technique by which a laser can be made to produce a pulsed output beam, leading to lower  pulse repetition  rates, higher pulse energies, and longer pulse duration.HiSpeed MOPA marking machine has a diverse application range, with wider pulse width range and much more  flexible than the Q-  switched laser machine. It can mark on stainless steels vividly.

>>>>>>Technical Parameters<<<<<<
| | |
| --- | --- |
| Model | LS-YLP-20L 30L 50L |
| Voltage | 110V/220V |
| Fiber Laser Source | Maxphotonics (JPT /IPG laser optional) |
| Output Power | 20W |
| Laser wavelength | 1064nm |
| Modulation frequency range | 20-100kHz |
| Speed | 0-8000mm/s |
| Precision | ±0.003mm |
| Minimum line width | 0.015mm |
| Minimum height of characters | 0.15mm |
| Cooling way | Air cooling |
| Marking range | 110x110mm(150x150mm / 200x200mm optional) |
| Laser power supply | 0.5KW,220V/50Hz, 110V/60HZ |
| Software | Auto-cad, CorelDraw, Photoshop software compatible |
| Rotary device | Optional Computer system:Windows xp,Windows 7 32bits |
Samples Show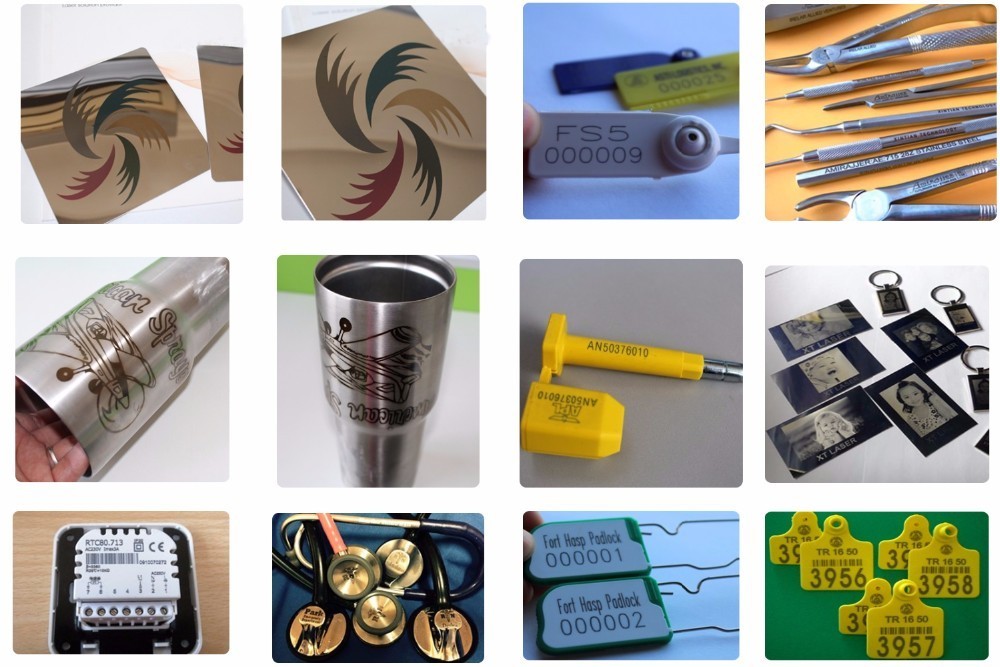 After Sales Service
1.All of our machine will be fully-checked by our quality control department before the shipment.We guarantee all of our laser machines have a one-year warranty (quick-wear parts notincluded).
2.Training details: operation principles, system and structure, safety and maintenance, softwarethe processing technique, and so on.
3. Numerous feedback from our clients have proven that our laser machines are stable inperformance with rare malfunction. However, we would like to handle it as follows oncemalfunction occurs:
a.We guarantee that we will give you a clear reply within 24 hours.
b. Customer service staff will assist and guide you to analyze the malfunction in order to locatethe cause.
c. If the malfunction is caused by improper operation on software and other soft faults, we willhelp solve the problem on line.
d.We will offer plenty of online supports, just like detailed technical and installation instructionsby email,video, telephone. (Training by team viewer)