In recent years, handheld fiber laser marking machines have emerged, breaking free from the limitations of traditional marking methods and experiencing rapid development. Portable handheld fiber laser marking machines are gradually becoming the preferred choice across various industries for marking purposes. Built upon the foundation of traditional desktop fiber marking machines, they retain the advantages of clear character marking and vivid product imagery and introduce new benefits such as compact size, user-friendliness, and energy efficiency.
Handheld fiber laser marking machines find remarkable applications in industrial marking and engraving. Moreover, compared to conventional desktop fiber laser marking machines, they exhibit outstanding features such as a wide range of pulse widths, high peak power, high frequency, and excellent beam quality. These attributes make them well-suited for high-quality industrial processing demands. They are suitable for marking materials like metals and certain plastics and are currently predominantly used in electronics, automotive, medical devices, aerospace, and more.
1. Energy-efficient and environmentally friendly, with an affordable price.
Handheld fiber laser marking machines are highly efficient and energy-saving in practical applications, with meager operating costs due to the absence of consumables. Additionally, the marking process does not produce any polluting gases, thus having no negative impact on the environment. As handheld laser marking machines become more widespread and market demand increases, their prices become more affordable, making them accessible to a broader range of businesses.
Currently, handheld laser marking machines have found extensive applications in industries such as mechanical manufacturing, packaging, and consumer DIY. They help businesses achieve higher production efficiency while ensuring product quality. With further power increases, handheld fiber laser marking machines are expected to gain broader applications in emerging markets, such as handheld engraving and marking.
2. Lightweight and portable, ready to use on the go.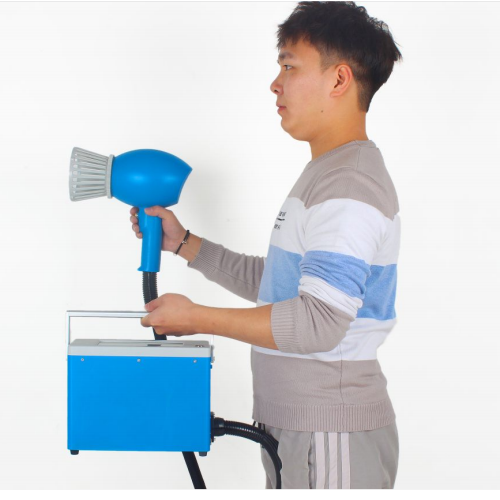 HispeedLaser is a company that specializes in manufacturing laser equipment. They have independently developed the LS-YLP portable handheld laser marking machine. The advantages are apparent. Its main feature is small and convenient, making marking significant mechanical components with lasers easy. This solves the problem of keeping large parts that existing equipment cannot handle. It is widely used in large equipment manufacturing industries such as railways, wheel hoops, train manufacturing, aircraft manufacturing, hydropower generators, wind power generators, steam turbines, engines, oversized bearings, shipbuilding, and large molds. It can flexibly process around parts, especially in IoT traceability and outdoor marking, where it performs excellently.
Compared with similar products, the portable fiber handheld laser marking machine has a significant advantage in the market competition. Firstly, it adopts advanced laser technology and high-performance lasers from famous Chinese brands, which can achieve high-precision, high-speed, and high-stability marking effects. Secondly, its body is reduced in size, with a lightweight and portable design, which is convenient for handheld operation and suitable for various scenes and working environments. In addition, it also has different power options for you to choose from and a flexible software control system, which can achieve various marking effects and customized patterns under different power levels.

3. Reduced weight, quality online 
This handheld portable laser marking machine has a total body weight of 6 kg, with a marking head weight of only 1.25 kg. It is compact and lightweight, making it suitable for marking large, bulky, or hard-to-move workpieces. The specially designed carrying case facilitates transportation, allowing indoor fixed operation and flexible outdoor tasks based on user needs. It also ensures the safety of the internal components of the machine. In the future, technical research and development efforts will be made to expand its application range further and achieve higher marking quality, such as finer lines and more precise patterns, to meet high-end products' identification and decorative needs.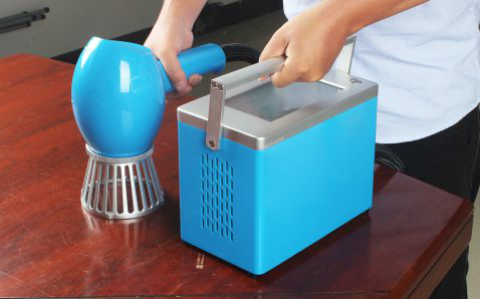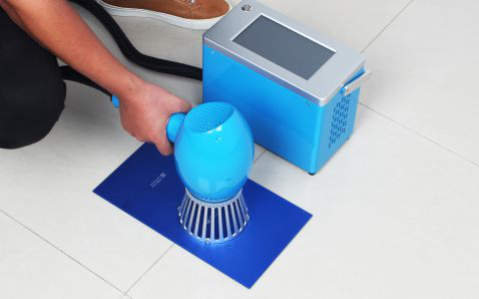 Hispeed Laser, a laser equipment manufacturer, focuses on research and development, strict quality control, and a perfect certification and management system. Centering around the strategy of "leading basic device technology and deepening application in industry equipment," Hispeed Laser continues to develop and extend its business, always insisting on independent innovation, mastering core technologies such as light sources, numerical control systems, and functional components, and has vertical solid integration capabilities. It has made significant breakthroughs in high-end equipment, core devices, lithium batteries, photovoltaics, semiconductors, and other fields.
In the future, handheld laser marking products will continue to innovate in power, speed, functionality, and application areas to meet the diversified and personalized market demand. Next, the development of the portable handheld laser marking machine series products will be directed toward the following significant areas:
Charge while using: the device can be charged and used during operation.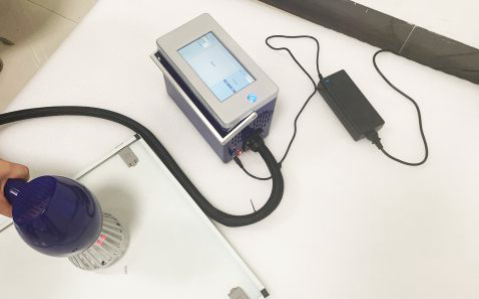 Added power control design, the device can be charged and used during operation, achieving continuous work and improving processing efficiency.
Multi-functional and intelligent.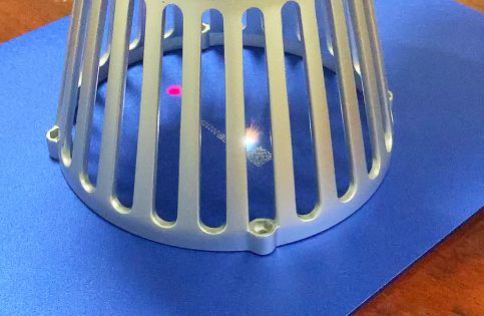 Added power control design, the device can be charged and used during operation, achieving continuous work and improving processing efficiency.
We are continuing to enhance functionality and increase the level of intelligence, for example, by adding features such as automatic focusing and automatic recognition. This improves the convenience of operation and delivers a more flawless marking effect.
They are expanding the application fields more comprehensively.
We are further expanding the range of applications to cover various materials and industries, including electronic information, household appliances and kitchenware, mechanical hardware, textiles and accessories, automotive manufacturing, and more.
Laser applications have the potential to penetrate various industries, and laser processing possesses inherent advantages for intelligent manufacturing. Regarding processing efficiency and quality, lasers exhibit significant strengths, aligning with the broader direction of intelligent manufacturing development. The transformation and upgrade of the manufacturing industry will also drive the substitution of traditional processing methods with laser processing.
As a participant in the manufacturing industry, Hispeed Laser company must keep up with the era's trends, understand market developments, identify pain points and challenges of end-users, and refine various solutions to fit different scenarios. By further advancing upstream device technology and process transformation, the company can inject fresh vitality into the laser industry, a multi-billion-dollar sector, and align with the evolving landscape.
Product Features
– Intelligent air-cooling with precise temperature control.
– High laser diode electron-optical conversion efficiency.
– The marking head weighs only 1.2 kg, making it compact and convenient, unaffected by site restrictions.
– Powered by an internal power supply with a large capacity of 8700mAh.
– Equipped with communication options such as USB and network ports, enabling quick data import.
– Touchscreen operation and handheld design for offline marking capabilities.
– Charge while operating, allowing the device to be used while being charged.
– Ultra-long battery life, with a working duration of 6-8 hours.
– Automatic start-stop design for energy-saving and reduced consumption.
– Diverse marking content with support for customized languages.
– Utilizes advanced unique optical fiber technology, eliminating the photon darkening effect.
– Real-time monitoring of laser status, with seamless switching between internal and external control.
– Incorporates specialized anti-back reflection design, capable of handling high-reflectivity materials without issues.