For our customers, we have the capability to supply a custom laser system for laser marking eye contacts depending upon specific requirements.
Hispeed Laser independent research, development, design and manufacturing laser marking system, the UV laser system was born for the new trend of contact lenses.
How laser marking technology is used in contact lenses
Laser marking technology allows any alphanumeric text to engrave on the surface of the contact lenses. The marking process can design not to interfere with the normal surface distribution of the tear layer. Moreover, the use of high-tech laser heads makes it possible to achieve highly-visible engravings, even to the naked eye, making lens recognition simple and immediate.
Hispeed UV Laser system generates the engravings by cold laser ablation of 355 nm UV radiation. This results in a superior engraving quality considering all cosmetic aspects – without any heat affection and micro cracks.
With Hispeed UV laser system, customers benefit from low investment and small operating cost. The system is utilized for visible, invisible as well as for technical engravings of all kinds of spectacle lenses, including CR39, polycarbonate, high-index materials and even mineral glass. Furthermore, it is possible to mark hard and soft contact lenses. The use of UV laser source achieves a high-quality marking result.
The production process for laser engraved contact lenses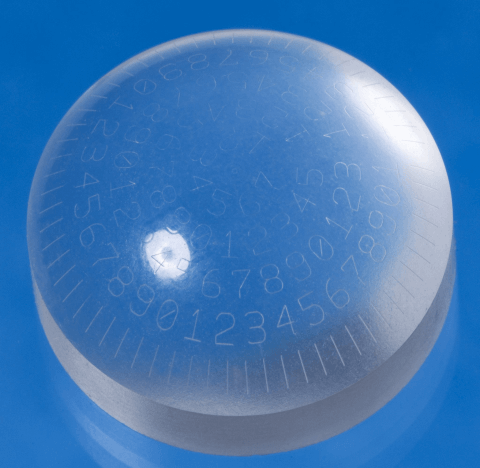 UV laser marking systems are gradually becoming the preferred choice for more and more contact lens manufacturers.
The production of ophthalmic lenses requires different marking processes, e.g. technical engravings and brandings for spectacle lenses as well as UDI marking for contact lenses. Hispeed Laser offers ophthalmic marking solutions for laser engraving of all types of ophthalmic lenses, e.g. prescription and sunglasses, or contact lenses. All laser system for permanent marking and guarantee:
Accurate contrast adjustment
Highest engraving precision
Reliable process stability
Flexible system configuration
If you're interested in a system for laser engraving contacts, be sure to reach out to our team now! We'd be happy to help you determine which system would work best for your applications.