We are already familiar with flat-surface laser engraving and have prepared many tutorials that may help you with perfect laser engraving on flat-surface objects. However, rotary laser engraving is a popular term related to laser engraving on curved surfaces. Laser engraving on a curved surface is not as simple as on flat surfaces. It requires special tools and proper configurations. Don't worry! We have prepared this article to make it easy for you.
This article focuses on the fundamentals of rotary laser engraving. It will also introduce to you some of the most popular types of rotary attachments. You will know more about their benefits and unique applications. Therefore, take time and read the following passages. We hope this excellent guide will help you understand rotary laser engraving better than before.
What is rotary laser engraving?
Rotary laser engraving refers to the typical laser engraving process on any curved surface using a rotary attachment. The curved surface can be cylindrical, spherical, or parabolic (egg shape). Therefore, a laser engraving machine with a rotary engraving tool can engrave perfectly on any curved surface product, whether a tumbler, wine glass, cylinder, sphere, or mug. In the later section, we will learn more about rotary attachment and its types.
What did we do in a typical laser engraving process? We placed the object in the engraving area, and the engraving object remained still. While on the other hand, in the rotary laser engraving process, the engraving object rotates at a certain speed. Besides, the rotary attachments also offer 360 degrees turning, making the process more effective and valuable.
Rotary laser engraving is trendy in most metal industries, especially in foundries where the curved surface is a regular product. On the other hand, starting from the medical sector to the aerospace industry requires high-quality rotary laser engraved products. Besides, laser engraving on many household products, such as bottles and wine glasses, is the perfect example of a rotary laser engraving process.
However, other rotary engraving processes, such as scribing, roll marking, dot peening, inject engraving, etc., are also available. Why rotary laser engraving is the best among them? Because a rotary laser engraver with a rotary attachment is the fastest and most reliable engraving machine among the others. Laser engraving is so accurate that you can engrave a photo with finer details. Therefore, the rotary laser engraving machine is trendy because of its wide range of benefits.
Why rotary laser engraving requires specific expertise?
While the typically flat surface laser engraving process requires simple procedures, rotary laser engraving isn't that simple. In a typical flat surface laser engraving process, the operator can finish the task by putting the object in the appropriate engraving area and constantly setting the machine parameters. On the other hand, for the rotary laser engraving process, you should determine the object's diameter and set the rotation speed of the rotary attachment motor, followed by the laser engraver machine's actual settings.
You may find many curved surface objects with different diameters and surface areas. Here, the trick is to know how to mount the engraving object properly with the rotary attachment tool. It is also important to note that the perfect mounting provides excellent laser engraving quality. On the other hand, different materials require different power levels and appropriate laser engraving speeds. Therefore, it is necessary to confirm proper expertise before working with a laser engraver with a rotary attachment.
What is rotary attachment?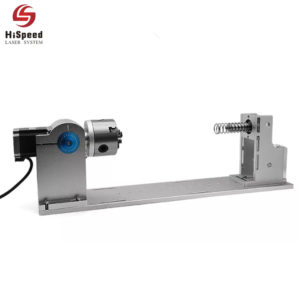 Rotary attachments are also popular as rotary rollers or rotation modules. The primary purpose of this tool is to hold the object at a certain angle and rotate it at a specific speed. Based on different requirements, rotary rollers can be of various types. However, rotary attachments come with laser engraver machines specifically designed for laser engraving.
A typical rotary attachment of a laser engraver machine for cylindrical objects comes with a sturdy structure, including one chuck plate, a rotary fixture, a one-step motor, and an optional tailstock for oversized objects. However, other types of rotary attachment may have different parts and mechanisms depending on the type of curved products.
The working principle of rotary attachment is simple as a lathe machine. The purpose of this equipment is to provide a variable rotating speed to the product so that the laser engraver machine can perfectly engrave on the curved surface. Before you start the device, it is necessary to check the rotary fixture to see if the product is mounted correctly or not. The connection of this equipment with the laser machine system is straightforward. All you need to do is to plug in the cable to the computer and install the necessary drivers. After that, the laser engraving machine software will automatically detect the step motor and control it according to the process settings.
Advantages of rotary attachment for laser engraving
Laser rotary attachment is designed for curved products such as square, cylindrical, or other 3D graphics. In this case, you can get an adjustable rotating fixture that can work with any type and shape of materials. Due to its lifting platform feature, you can also process any thickness of the materials. However, the configuration of the overall mechanism is also adjustable.
Other benefits also make this unique equipment popular for versatile applications. In the following, we have pointed out some of the benefits. Let's check.
A laser rotary attachment provides high torque and adjustable rotation speed.
High-quality rotary rollers are undoubtedly efficient and reduce motor heating.
This equipment provides smooth motion and reduces noise.
The controller driver is open-source and perfectly compatible with any laser-burning software. Therefore, it is easy to install and start quickly.
In the case of rotary laser engraving, this equipment provides fast and accurate engraving on the curved surface.
Because of this sturdy structure, laser rotary attachments typically last long and provide a stable performance.
Application
Rotary attachment for laser engraving plays a significant role in engraving on curved surfaces. The application of this excellent tool is popular in the following industries.
Household Appliances: show pieces, pen holders, glass, tumblers, mugs, water flasks, etc., are the most common examples of household appliances where the laser rotary attachment is popular.
Medical Industry: injection kits, operation instruments, stethoscopes, etc., are some of the most popular medical tools where rotary attachments are required.
Metal Industry: Most foundry's specific products comes with various curved surfaces. In this industry, the rotary attachment tool is the most popular.
Electrical appliances: blender motor housing, iron, rice cookers, electric kettle, etc., are some curved electrical products that require high-quality laser engraving.
Besides the above applications, rotary attachment tools are famous for lathe and vertical milling machining.
Types of Rotary attachment
The types of laser rotary attachments vary, considering the different products to be engraved. In this case, other types of rotary attachment tools are also available in the market. But we aim to find the popular types compatible with the laser engraving process. Therefore, in the following, we discussed four significant types of rotary attachment for laser engraving.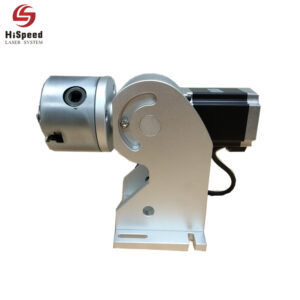 1.      Rotary Device for Cylinder Product
This type of laser rotary attachment consists of three primary parts and one optional part. The rotary fixture, step motor, and adjustable base are the direct parts of the overall system. On the other hand, the optional part consists of the tailstock, typically used for more oversized cylindrical objects.
The Rotary Fixture is applicable to mark and cut on the cylinders, sphere-shaped, tapered, and non-symmetrical objects. The adjustable base and the rotating fixture provide 360 rotations of the engraved objects. Therefore, to laser mark on varied rings where the inner and outer circle is a concern, you can go for 360 degrees rotary engraving way. On the other hand, typical laser marking on the flanges, dials, and cups can go for the usual rotating method.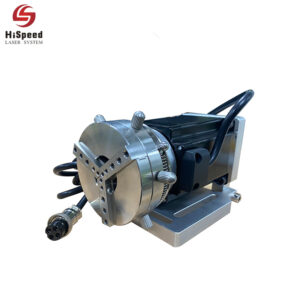 2.      Rotary Fixture for Ring & Bracelet
This laser rotary attachment is specially designed for laser engraving on rings and bracelets. Its excellent rotary fixture adjusting method is ideal for laser engraving on jewelry products. The unique rotary fixture for this equipment consists of a self-locking spring, different-sized collets, and angle-adjusting screws.
It is important to note that the rotary fixture of this type is applicable to mark and engrave on the ring & bracelet products. In addition, laser marking the interior and outer circle of rings follows the 360-degree rotary engraving way.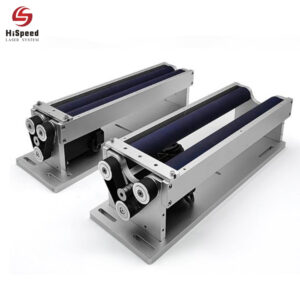 3.      Rotary Device with Roll Axis
This type of laser rotary attachment offers a 2Phase Stepper Motor and 24V Driver for Laser Marking Cylindrical and cuboid objects, DIY Parts, etc. It is suitable for laser marking, engraving, and cutting machines.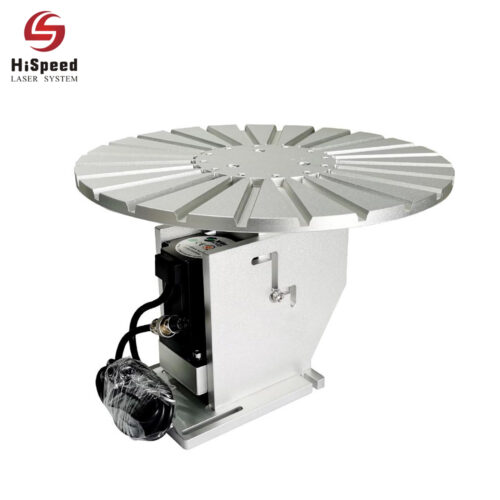 4.      Rotary Table for Pen Marking
A "rotary table for pen marking" is technically ideal for laser engraving pens, injection kits, small-diameter cylinders, test tubes, etc. This excellent tool can consecutively engrave 24 pcs of small-diameter cylindrical objects.
Final words
Rotary laser engraving refers to the typical laser engraving process on any curved surface using a rotary attachment. This process requires specific expertise to get an excellent engraving on the curved surface products, and it is necessary to know some particular parameters of the objects and machine settings. Hispeed laser offers the best laser rotary attachment tools high-compatible with any laser machine settings. The equipment from this factory is durable and continuously serves people all over the world.
Above all, we have discussed some basic information about rotary attachment tools. The following articles will provide an essential guide on "How to laser engrave cylindrical objects." However, if you have any queries, feel free to contact us. We have always promised excellent customer service for our beloved customers.