Description of Mini Full Enclosed Fiber Laser Marking  Machine
---
Enclosed Fiber Laser Marking Machine can mark logo, character, serial number, bar code, data matrix on both metals and some non-metals. It does not have consumable. It's very cost effective. It boasts fast marking speed and high marking precision. It's widely used and well accepted in prevailing international market.
Key Information of Enclosed Fiber Laser Marking  Machine
Product Type:
Table Type Fiber Laser Marking Machine

Marking Materials:

Both metals and some non-metalsMetals: carbon steel/mild steel, stainless steel, aluminum, copper, magnesium, zinc; rare metal and alloy steel (gold, silver, titanium, etc.); special surface treatment (aluminum anodized, plating surface, surface oxygen breaking of aluminum and magnesium alloy)Non-metals: plastics, rubber, resin, carton box, etc.
Marking  Content:
Fiber Laser Source, Scan Head, F-theta Lens, Marking Main Partslogo, character, serial number, bar code, data matrixFiber Laser Source, Scan Head, F-theta Lens, Marking Software, Computer
Core Parts & Brand & LifetimeCore Parts: 
Fiber Laser SourceBrand: IPG, SPI, Raycus, Max, JPT (optional)
Lifetime: 70,000 – 100, 000 hours
Cooling Mode:Air Cooling Continuous
Working Hours:22 hours
| | |
| --- | --- |
| Model | LS-YLP-20L/30L/50L100L |
| Power | 20W 30W 50W |
| Wavelength | 1064nm |
| Beam Quality | M2<1.3 |
| Output Power | 10%-100%(continuously to be adjusted) |
| Output Frequency | 20KHz-100KHz(continuously to be adjusted) |
| Power Stability(8h) | <±1%rms |
| Focus Spot Diameter | <0.01mm |
| Engraving Range | ≤400*400mm(customized) |
| Engraving Depth | 1.2mm |
| Engraving Speed | 800 standard characters/second |
| Minimum Line Width | 0.012mm |
| Minimum Character | 0.1mm |
| Repeated Accuracy | ±0.003mm |
| System Operation | Windows XP/2000/98 |
| Cooling Mode | Air Cooling |
| Environment Temperature | 10ºC~35ºC |
| Environment Humidity | 20%-80% |
| Power Requirement | 220V/Singlephase/50Hz/<400W |
| Life of Laser Module | 100000Hrs |
Sample Show: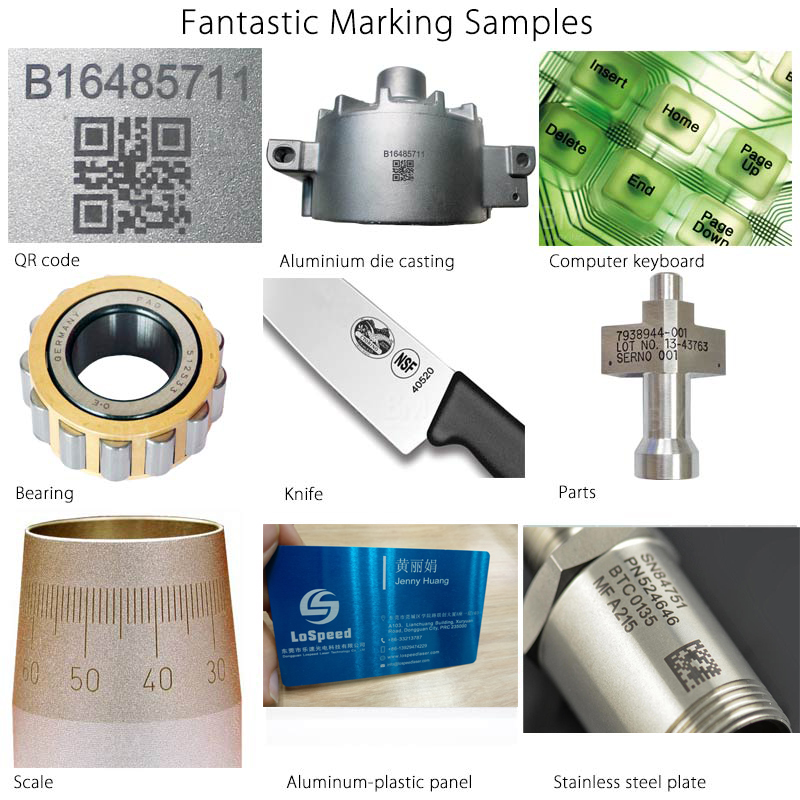 After Sales Service:
1.All of our machine will be fully-checked by our quality control department before the shipment.We guarantee all of our laser machines have a one-year warranty (quick-wear parts notincluded).
2.Training details: operation principles, system and structure, safety and maintenance, softwarethe processing technique, and so on.
3. Numerous feedback from our clients have proven that our laser machines are stable inperformance with rare malfunction. However, we would like to handle it as follows oncemalfunction occurs:
a.We guarantee that we will give you a clear reply within 24 hours.
b. Customer service staff will assist and guide you to analyze the malfunction in order to locatethe cause.
c. If the malfunction is caused by improper operation on software and other soft faults, we willhelp solve the problem on line.d.We will offer plenty of online supports, just like detailed technical and installation instructionsby email,video, telephone. (Training by team viewer)