Description of Space Saver UV Laser Marking Machine 
Machine details
Technical Parameters:
| | |
| --- | --- |
| Model | LS-UV-3/5/8 |
| Power | 3W 5W 8W |
| Wavelength | 355nm |
| Beam Quality | M2<1.3 |
| Output Power | 10%-100KHz |
| Output Frequency | <±2%rm |
| Power Stability(8h) | <±3%rms |
| Pulse to pulse instabilit | TEMoo(M2<1.3) |
| Spatial Mode | <2mrad(full angle) |
| Beam Divergence | 0.6±0.1mm |
| Beam Diameter | >90% |
| Beam Roundess | <50urad |
| Pointing Stability | H50rad |
| Polarization Direction | Horizontal |
| Polarization Ratio | 100:1 |
| Cooling | Water-cooling |
Applicable to all metal materials and most non-metallic materials: coding, punching, laser tearing, stripping, stripping, rust removal, deep carving, fine micromachining, anodizing, oxygen-permeable conductive surface treatment And other applications;
Main applications: film etching, glass marking, material micromachining, wafer cutting, laser rapid prototyping, etc.
1. Machinery industry: hardware tools, clutches, bearings, pistons, piston rings, steel pipes, steel plates, gears, sensors, shafts, etc.;
2, electronic components: such as capacitors, inductors, circuit boards, integrated circuits, automotive oil system, nylon, cable and wire, keyboard, etc.;
3. Instrumentation: control panel, measuring instrument, medical equipment, aviation parts, etc.;
4, household appliances, lamps, product packaging, stationery, brand-name panels, label signs, cosmetics, color paper, various paint products, cigarettes, handicrafts, etc.;
5, tableware, food, gold, jewelry, handicrafts, ceramics, building materials, sanitary ware, office supplies, etc.;
Sample Show: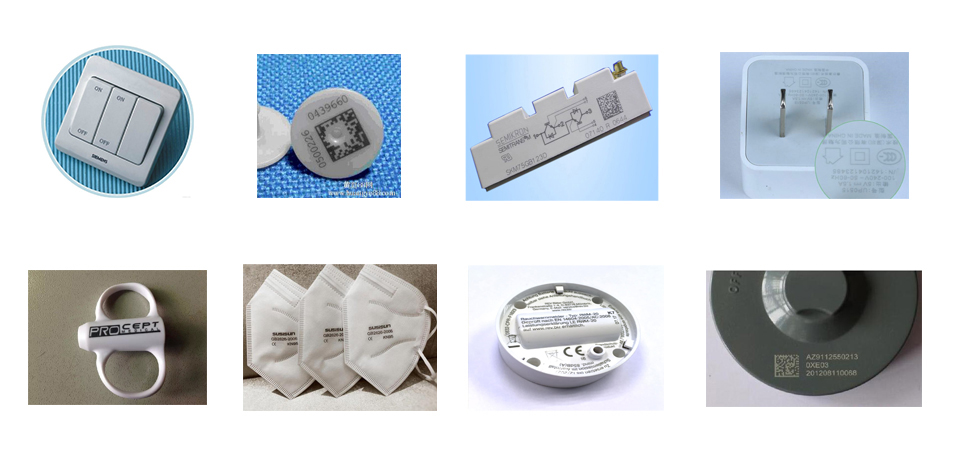 After Sales Service:
1.All of our machine will be fully-checked by our quality control department before the shipment.We guarantee all of our laser machines have a one-year warranty (quick-wear parts notincluded).
2.Training details: operation principles, system and structure, safety and maintenance, softwarethe processing technique, and so on.
3. Numerous feedback from our clients have proven that our laser machines are stable inperformance with rare malfunction.
However, we would like to handle it as follows oncemalfunction occurs:
a.We guarantee that we will give you a clear reply within 24 hours.
b. Customer service staff will assist and guide you to analyze the malfunction in order to locatethe cause.
c. If the malfunction is caused by improper operation on software and other soft faults, we willhelp solve the problem on line.
d.We will offer plenty of online supports, just like detailed technical and installation instructionsby email,video, telephone. (Training by team viewer)